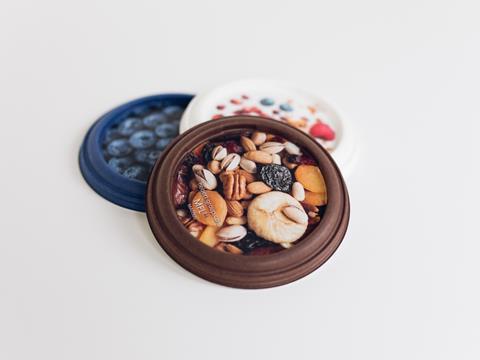 Hébert Group, PulPac, MCC Verstraete, and Pagès Group are set to commercialise Moulded Fibre Labelling (MFL), or the glue-free application of labels to dry moulded fibre during the moulding process, intending to provide recyclable and biodegradable options for fibre-based packaging without sacrificing its decoration quality.
The collaboration is expected to supply Dry Moulded Fibre products to key FMCG brands by building upon Hébert Group's earlier involvement with In-Mould Labelling (IML). This involves fusing labels with a product in-line during the moulding process.
As such, the MFL labels used for Dry Moulded Fibre are said to be glue-free, fibre-based, and fully recyclable. They are also thought to be biodegradable and fully compatible with single-material packaging and the paper recycling stream.
MFL reportedly results in a high and precise print quality with easily-modified graphics.
"We strongly believe in Dry Moulded Fibre as the future solution for fibre-based packaging," says Julien Hébert, technical and sales director of Hébert Group. "Having worked with IML for more than 35 years, we have continuously perfected the technology. Combining it with Dry Moulded Fibre was a given.
"The results we've achieved together in the lab are very promising and our respective teams are looking forward to bringing this game-changer to the market."
Nico Van de Walle, product and circular economy manager at MCC Verstraete, says: "We have a stated and long-lasting commitment to be at the forefront of sustainable development. Adapting our know-how in IML products and services to Dry Moulded Fibre allows us to offer a high quality and sustainable decoration method for dry fibre moulded parts, conform our sustainability strategy stating that the final packaging should be recyclable, reusable, or compostable."
"Packaging has never been more important to a brand," adds Sanna Fager, chief commercial officer at PulPac. "Sustainability is a must, and by adding in-mould labelling to Dry Moulded Fibre we leverage possibilities for brand-owners to connect with customers, communicate brand and values – making Dry Moulded Fibre products even more competitive."
"As a leader in automation solutions driven by innovation, we are proud to contribute with our long experience of IML for the plastics industry and engineer it into this transformative solution for Dry Moulded Fibre packaging," says Romain Hervé, business development director at Pagès Group.
Transcend Packaging and Zume announced their partnership in the summer; the collaboration aims to enhance the production capacity of moulded fibre with a new facility planned to open next year.
Meanwhile, Cullen Packaging has launched a moulded fibre bottle that claims to be made of recycled cardboard, reportedly disposable in domestic recycling bins.
Scientists from Oregon State University have also developed moulded pulp packaging made with apple pomace, amongst other ingredients.