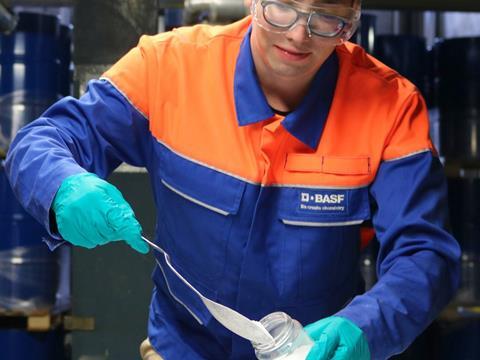 BASF has revealed what are claimed to be the industry's first biomass balance offerings for plastic additives, supporting the replacement of fossil feedstock with renewable alternatives and guiding customers towards their sustainability goals.
Antioxidants Irganox 1010 BMBcert and Irganox 1076 BMBcert, as well as other initial offerings, are certified for mass balance by TÜV Nord according to ISCC PLUS. These are drop-in replacements for Irganox 1010 and Irganox 1076, and BASF assures customers that they do not need to requalify the new additives or reformulate their products, as the BMBcert offerings provide the same performance, quality, product stewardship, and regulatory aspects.
The BMBcert range replaces fossil-based raw materials at the beginning of the value chain, with a corresponding amount attributed to the product according to a mass balance approach – theoretically reducing the cradle-to-gate carbon footprint of a product by up to 60% compared to the global average of conventional grades.
As such, the additives are expected to save fossil resources, lower greenhouse gas emissions, and improve the use of renewable feedstock. Customers are thus expected to stand out from competitors and maintain their products' performance and quality while pursuing their sustainability targets.
"By leveraging BASF's highly integrated global production network of interconnected sites and plants, we are able to produce these industry-first, low carbon footprint, drop-in solutions with the same performance characteristics," said Joerg Bentlage, head of Global Product Management, Plastic Additives, BASF. "As we advance our own journey to a more circular economy, we aim to drive a sustainable transformation towards renewable feedstock within the industries we serve through innovative and strategic customer partnerships."
The new additives will first be produced at BASF's site in Kaisten, Switzerland; they will become available in McIntosh, Florida, USA in early 2024.
Last year, Henkel sought to replace its annual fossil-based restock usage of around 110,000 tonnes with renewable carbon sources using BASF's certified biomass balance approach, while SI Group presented its EVERCYCLE additives platform for recycling PET, HDPE, PP, and LDPE packaging.
BioPowder has recently converted olive stone powders into additives for a range of packaging solutions, from solid containers and transparent films to biobased adhesives and barrier coatings, as an alternative to conventional raw materials.
If you liked this article, you might also enjoy:
The L'Oréal approach to packaging sustainability
What steps is Apple taking to make its packaging more sustainable?
How did Brazil achieve its 100% aluminium can recycling rate – and can it be replicated in the EU?
Experts have their say on the EU's Packaging and Packaging Waste Directive revisions