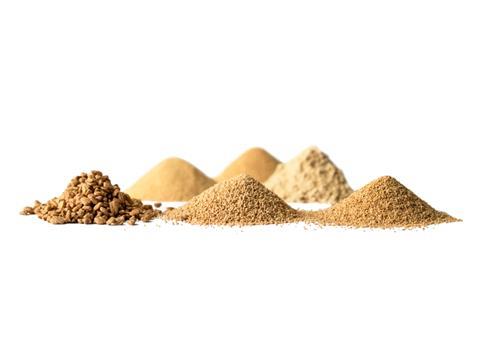 BioPowder has converted olive stone powders into additives for a range of packaging solutions, from solid containers and transparent films to biobased adhesives and barrier coatings – claiming to offer a versatile, low-carbon alternative to conventional raw materials.
BioPowder manufactures powders from by-products and produces functional fillers, texturizers, and reinforcing particles that claim to enhance biodegradable packaging compounds such as protein films and bio-sourced resins. Utilizing olive stones as a side-stream of olive oil production is thought to reduce waste and promote rural development in the Mediterranean region, with any carbon emitted during powder manufacturing apparently captured by the olive tree.
Marketed as Olea FP (Functional Powder), the powders are applicable to packaging compounds undergoing injection moulding, extrusion, film blowing, filament creation, and other processing steps. Their micron ranges can be customized for viscosity control, easy dispersion, and different texture effects between polymer chemistries.
Surface-treated product grades are available to meet customer requirements for water and oil absorption, such as hydrophobic properties. Additionally, the particle stability and hardness of the powders are said to strengthen packaging materials for such end uses as reusable cosmetic containers, while their low density is apparently useful for lightweight solutions like compostable food packaging films.
Barrier coatings and biobased adhesives are also among the potential applications of Olea FP, according to the company.
"Biobased innovation includes anything from conventional, fossil-based polymers reinforced or filled with a natural particle up to 100% compostable films that leave no trace," explains Kathrin Schilling, founder and director of BioPowder. "Our goal is to assist material scientists in their developments, wherever they are standing in their journey towards a reduced environmental impact.
"Sustainability sure is high up in the agenda of most packaging manufacturers. The route to implementation, however, can look very different across companies. Our goal is to encourage material scientists to think outside of the box and experiment with innovative raw material options."
Back in 2020, a collaborative project between AIMPLAS, the Plastics Technology Centre, and OLIPE, a cooperative of olive oil producers, created a plastic compound material from olive oil and a thermoplastic material. It claims to be both biodegradable and compostable and compatible with both extrusion and injection moulding.
More recently, the GO ORLEANS research project has utilised whey, a pollutive by-product of cheese manufacturing processes, to develop an active packaging solution that reportedly extends the shelf life of cheese by five to ten days.
If you liked this article, you might also enjoy:
The L'Oréal approach to packaging sustainability
What steps is Apple taking to make its packaging more sustainable?
How did Brazil achieve its 100% aluminium can recycling rate – and can it be replicated in the EU?
Experts have their say on the EU's Packaging and Packaging Waste Directive revisions