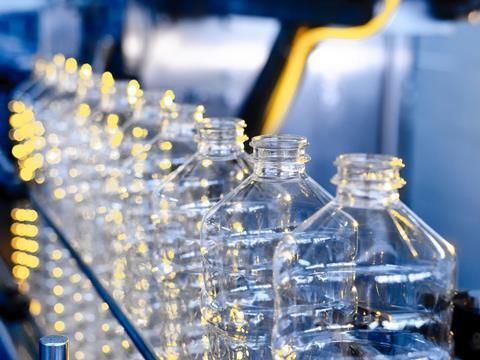 Amcor Rigid Packaging has unveiled a two-step light-weighting technology set to remove over 50% of the material and weight in the finish of PET bottles – a development thought to produce attractive packaging, lower manufacturing costs, and reduce carbon emissions.
Originally developed for the spirits industry, the company claims that its new Quantum technology allows for the utilisation of 100% recycled material and produces fully recyclable packaging applicable to healthcare, home and personal care, and food and dairy applications, amongst others.
Reportedly, it utilises PET due to its 'infinite' recyclability and low carbon footprint, with a previous life cycle analysis conducted by Amcor asserting that the production of PET bottles results in 70% fewer greenhouse gas emissions than other packaging materials.
"Our customers and consumers alike are looking for ways to support the circular economy and eliminate waste, and our engineers have developed a new technology that meets their needs and advances more sustainable packaging," said Terry Patcheak, vice president of R&D, Sustainability and Project Management at ARP. "We're helping our customers support source reduction, reduce material use and reduce weight, which means a lighter and more sustainable package."
Previously, an LCA conducted on Avantium's plant-based PEF in 250ml and 500ml bottles by the Nova Institute suggested that the material's mechanical properties enable light-weighting that would reduce pressure on abiotic resources by 47%.
Stephane Triquet, vice president of strategic marketing at Selig, also told us that the light-weighting of glass packaging for non-sparkling wines has grown in popularity, with retailers seeking to reduce the reported 50% of carbon emissions caused by a glass bottle during the production of wine.
Last year, thermoformed packaging firm Kingsmoor Packaging announced its light-weighting initiative, KPL Circus, thought to create lighter yet stronger packaging.