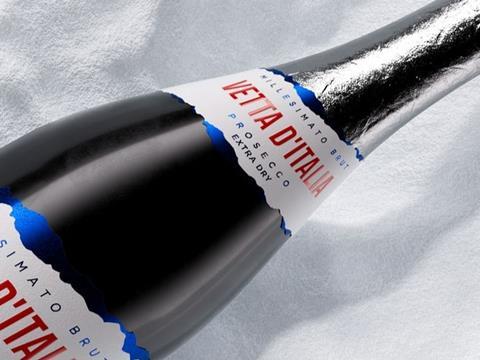 Avery Dennison is aiming to tackle the issue of neck labels detaching from bottles with its new Neck Label Collection for premium products stored in ice buckets such as champagne and prosecco.
Neck label detachment can happen for a variety of reasons – one being the "memory effect", in which paper labels set to be applied to curved surfaces return to their original flat shape. Contact with water, ice, and condensation from temperature fluctuation can also be a causing factor.
Avery Dennison's Neck Label Collection aims to remedy this with its collection offering over twenty different varieties of labels. This reportedly includes materials made from 100% recycled pulp, and some feature an Avery Dennison rPET liner that can apparently be recycled and reused through the AD Circular programme.
By utilising high-performing adhesives, the labels apparently enable the front and neck labels to utilise the same paper grammage; this is thought to ensure that labels stay attached to bottles while also maintaining an elegant aesthetic for premium brands, even when the front label is hidden in an ice bucket.
"Every once in a while you come across a truly game-changing innovation for the label and packaging industry – and this is it," says Vladimir Tyulpin, Premium Solutions Segment Leader at Avery Dennison. "The world of premium drinks, particularly sparkling wines, is one where every detail matters.
"Having a neck label that can showcase your brand ensures greater consumer appeal and product stand out on-shelf, making it impossible to substitute your brand with any other. We have spent several years testing and advancing this collection and our team of experts is looking forward to helping brands to elevate their packaging appeal."
Denomination has recently designed what claims to be the first ever label-less wine packaging, Crate, for Fourth Wave Wine's barrel-matured wine, intending to reduce the use of materials in the production of paper labels.
Fedrigoni Self Adhesives, meanwhile, intends to upcycle discarded glassine from the backing of other self-adhesive products to create its Re-Play premium labelling line.