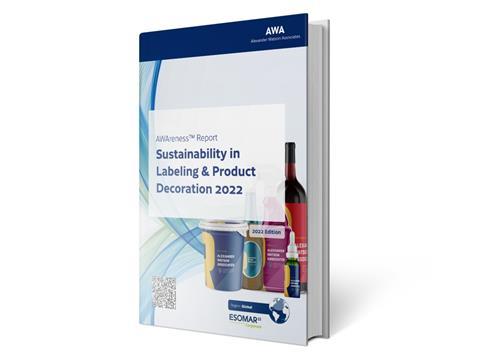 AWA has released its first AWAreness Report Sustainability in Labeling & Product Decoration, identifying the current market trends that are contributing towards sustainability efforts in the global labelling industry.
The growth prospects of the labelling sector are reportedly increasing, with AWA attributing the potential to consumers' environmentalist concerns as well as shifts in industry guidelines. For instance, developments in sustainability legislation and extended producer responsibility are reportedly beginning to establish standardized expanded scope requirements for value chains.
The report breaks down popular labelling methods such as pressure-sensitive, glue-applied, sleeve, and in-mould labels and assesses the current landscape of the industry. It also covers the market environment, variants, and end-uses of each type of labelling type, as well as their positioning, sustainable development, and recyclability.
Furthermore, it connects each of these labelling solutions to their most common applications in rigid and flexible packaging – identifying macro trends such as policy and regulation, design for recycling, consumer trends, brand initiatives, and packaging megatrends. These are expected to contribute towards an understanding of the current and future industry landscape.
AWA also provides an overview of projects currently being run by associations and organisations throughout the value chain and across the world.
Marika Knorr, head of sustainability and communications at CCL Label, previously outlined the current sustainability challenges faced by the labelling industry. This includes the price and availability of recycled content – an issue she believes can be solved through stronger regulatory framework and decisive action – as well as the continued effort to reduce the carbon footprint of the production process.
Recent innovations in pursuit of sustainable labelling solutions include a collaboration between UPM Raflatac and Logopak to produce the 'first' linerless solution in print and apply labelling, a move anticipated to reduce CO2 emissions and manufacturing costs; and QR code labels unveiled by Avery Dennison and The R Collective, manufactured alongside digitally enabled garment bags in the hopes of reducing downcycling in the textile industry.