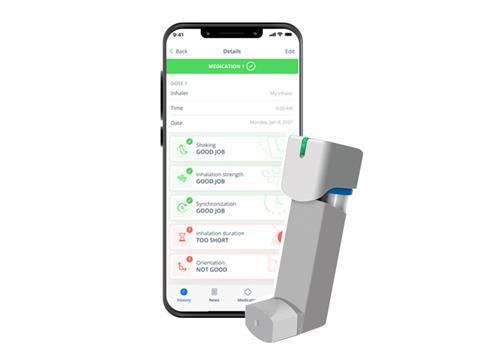 Aptar Pharma, a leading AIPIA member in the active technology area, recently received two InnoPack 2022 China Awards in recognition of its HeroTracker® Sense and Activ-Blister™ solutions.
HeroTracker® Sense by Aptar Digital Health was announced Gold Winner in the Awards' Patient Adherence category. This is a novel digital respiratory health solution that transforms a standard metered dose inhaler (pMDI) into a smart connected healthcare device, allowing patients living with respiratory conditions to track and monitor their disease management, explains the company.
"We are really pleased to receive this award. We see HeroTracker® Sense as a product for the future, and one that will demonstrate significant value, creating real world evidence that can aid the support of reimbursement models in numerous different markets," said Sai Shankar, President, Aptar Digital Health.
Aptar CSP's Activ-Blister™ solutions, which was named Silver Winner in the Market Potential category, offers a new way to address drug product stability concerns for oral solid doses and capsule-based dry powder inhalers, extending shelf life and ensuring the efficacy of the drug product, it says.
The technology embeds the company's patented 3-Phase Activ-Polymer™ film into individual blister cavities to create a custom-formulated microclimate around each dose to meet specific drug long-term and in-use stability requirements while maintaining therapeutic efficacy. Outfitted blisters can adsorb tailored amounts of moisture, scavenge oxygen, odours, or VOCs, emit aromas, or provide a combination of active protection.
Badre Hammond, vice-president, commercial operations and GM, APAC, Aptar CSP Technologies, said, "At Aptar CSP, we believe that innovation start with patients and consumers in mind. Activ-Blister™ solutions creates a microclimate within the headspace of each pill or tablet ensuring stable and efficacious treatment from R&D to the pharmacy shelf."
Another AIPIA member on the winners rostrum at these awards was Berry Global which won gold and silver in the Functionality and Cost Effective categories for its breakthrough antimicrobial ophthalmic multidose eye dropper, launched last year. Developed in collaboration with PYLOTE, the dropper is a first-to-market offering combining high barrier with unique antimicrobial protection properties, they say.
It combines PYLOTE's mineral breakthrough innovation that helps protect patients/users from the risk of microbial infections with BERRY GLOBAL's expertise in design of sustainable healthcare packaging. The new dropper has proven effective against Adenovirus type 3 Virus (conjunctivitis), Escherichia Coli and Staphylococcus aureus bacteria.
InnoPack China, part of CPhI & P-MEC China, announced the winners of the Innopack China 2022 Awards on December 20, 2022. An official awards ceremony is planned to take place later in 2023. AIPIA is actively involved in the Innopack series of events and will organise a Smart Packaging for Pharma seminar at the upcoming CPhI South East Asia event in Bangkok, next July.
This article was created in collaboration with AIPIA (the Active and Intelligent Packaging Industry Association). Packaging Europe and AIPIA are joining forces to bring news and commentary about the active and intelligent packaging landscape to a larger audience. To learn more about this partnership, click here.