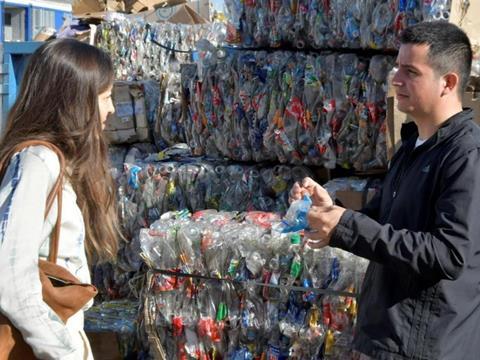 A strategic partnership has been formed between Amcor, Mars, P&G, and Delterra to bring the latter's upstream and downstream circular plastics solutions to scale in the Global South – an effort hoped to cut down on plastic pollution in the region.
In the lead-up to the second negotiating committee meeting for a Global Plastics Treaty (INC-2), the partners state that plastic pollution 'is a symptom of the broader issue of underperforming or non-existent waste management and circularity solutions'.
As such, the partnership seeks to invest in waste prevention programmes across the value chain. This includes the global rollout of Plastic IQ, Deltarra's digital tool designed to help companies understand and improve their plastic footprint – enabling them to design waste out of the system and tackle upstream waste.
Furthermore, the company's Rethinking Recycling programme aims to capture recyclable and compostable materials and direct them back into the loop, contributing to supply and demand. The investments are also set to develop material traceability solutions to provide transparency on source, quality, and ethical concerns along the recycling value chain.
Jointly committing US$6 million over five years, the partners express their shared vision of a systemic and holistic approach to rolling out scalable and sustainable programmes in the transition to a circular economy. This is crucial to overcoming plastic pollution, they believe, and call upon like-minded organisations to join their group of strategic partners.
Initially, they will direct their focus towards Indonesia, Argentina, and Brazil and look towards providing easy access to waste management and recycling systems to 10 million people. They anticipate that their collaboration will enable them to develop beyond their individual strength and have a wider positive impact.
"We are thrilled to be partnering with Amcor, Mars and P&G on our joint mission of eliminating waste in the environment," said Delterra president and CEO Dr. Shannon Bouton. "Solving plastic pollution – and indeed the broader waste crisis, requires a rethinking of the way we produce and manage waste.
"This includes a rapid expansion of waste collection and sortation and reliable recycling markets, alongside a deeper redesign of how we consume. We are inspired that these organizations are stepping up to this challenge alongside Delterra and we invite more companies to join this growing partnership."
David Clark, vice president of Sustainability at Amcor, continued: "This partnership of leaders from the packaging value chain will make a real difference in creating a circular economy for packaging and eliminating plastic waste from the environment. Our partnership with Delterra in Latin America has shown us that shared commitments enable great progress when working collaboratively.
"We understand the critical importance of stemming pollution at the source by designing waste out of the system and returning plastic into the value chain as recycled content. This strategic partnership is a milestone achievement towards this ultimate goal."
"We are excited about this partnership with Delterra and like-minded peers in the industry," stated Allison Lin, global VP of Packaging Sustainability at Mars. "We want to demonstrate that we can create successful programs for waste management and recycling systems particularly in the Global South, that currently lacks the infrastructure we need to stop plastic pollution.
"Scale will enable these systems to be self-sustained and ultimately, protect people and planet while at the same time creating value for local communities. We call on all parties gathering in Paris for the Global Plastics Treaty negotiations to agree on a regulatory framework that enables the creation of effective waste management infrastructure systems everywhere in the world."
Stacie Hecht, packaging and waste leader – Global Sustainability at Procter & Gamble, concluded: "We are excited to partner with Delterra. It will take the entire value chain – including businesses like P&G – to prove out new circular business models while improving waste management."
In January, the World Economic Forum's Global Plastic Action Partnership, the Ellen MacArthur Foundation's Plastics Initiative, and WRAP sought to share expertise between their global initiatives and pursue a global reduction in plastic pollution by creating a knowledge exchange network.
The Colombia Plastics Pact – a collaboration between key players across the packaging value chain seeking to achieve a circular economy for Colombia's plastics and lower plastic pollution in its environment – was announced shortly after.
Both follow the reveal of the Ellen MacArthur Foundation and WWF's Business Coalition for a Global Plastics Treaty. Involving NGOs, financial institutions, and 83 international businesses across the plastics value chain, it expects to "form the basis for future policy engagement with governments" relating to plastic waste.
If you liked this article, you might also enjoy:
McDonald's Director of Sustainability in Europe on the company's approach to packaging sustainability
McKinsey on whether or not on-pack sustainability claims affect consumer spending
Perspectives from industry-leading experts on the EU's Packaging and Packaging Waste Directive revisions
A deep dive into the most important packaging sustainability trends and solutions