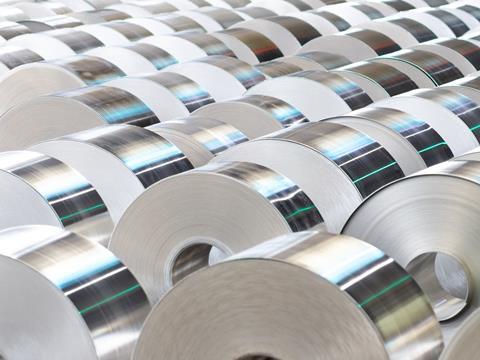 Amcor Capsules and aluminium suppliers Aludium have collaborated to produce what they are describing as a certified and independently verified 'low-carbon' aluminium product for use in screwcaps, with a reported reduction of more than 50% in carbon footprint compared to the average for primary aluminium sold in Europe.
Amcor says that when compared to primary aluminium produced in China it represents an average carbon footprint reduction of more than 80%. Also known as Aludium Eco Brand 4.0, the new technology is apparently cradle-to-gate including Scope 1, Scope 2, and Scope 3 emissions with 4 tonnes of CO2 produced per tonne of semi-finished aluminium.
The GHG emissions produced by this generation of aluminium are verified by a third party and certified according to ISO-14067-1:2018 and the Greenhouse Gas Protocol Standards. This certification process has been carried out between Amcor Capsules and Aludium to offer total transparency of the aluminium carbon footprint.
Amcor Capsules' collaboration with Aludium aims to support its target to reduce its carbon footprint by 18% from 2019 to 2025 and its commitment to reach net zero emissions by 2050.
Back in February Amcor invested $250,000 into circolution's pay-per-cycle service for FMCG brands (as an addition to the existing bottle-deposit system in Germany) and in April it worked alongside coffee roaster Löfbergs to launch a mono-material solution for coffee packaging, which is allegedly suitable for both chemical and mechanical recycling and has a 55% reduction in carbon footprint.
If you liked this article, you might also enjoy:
The Lidl approach to packaging sustainability
How did Brazil achieve its 100% aluminium can recycling rate – and can it be replicated in the EU?
Experts have their say on the EU's Packaging and Packaging Waste Directive revisions
A deep dive into the most important packaging sustainability trends and solutions