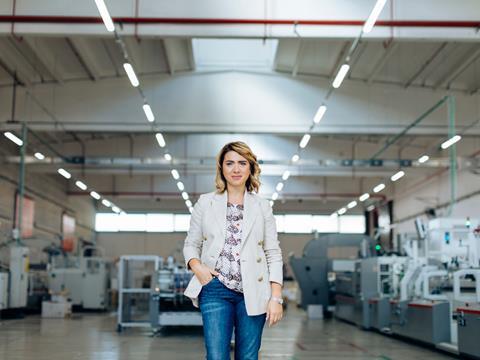 Paola Iannone, Sales and Marketing director Europe II, All4labels, is the latest to take part in our Rapid Interview series.
Your elevator pitch: introduce and sell us your company in no more than 280 characters.
All4labels is a packaging solutions provider. It is a long story of entrepreneurial families that decided to merge their business to leave a mark in the packaging industry, keeping their and separate identities and building a successful global business.
Where are your company's locations? Are there any specific challenges or advantages relating to your geographical location that you could tell us about?
With 29 plants all around the world we have a global footprint. Our strategy is to sponsor the proximity approach, always investing in the local market. It means listening to the needs of our customers, and acting with empathy in order to deliver smarter and more sustainable packaging solutions.
Tell us a surprising fact about the market you work in
Adding a new 'product division' to our orchestra and, at the same time, continuing to play with one voice? Is this possible? We have always received positive feedback and trust from our customers, who are aiming to develop with us not only products but solutions, with an integrated approach.
At Packaging Europe we like to watch trends and areas of innovation as they evolve. Can you tell us something we might not be aware of that is driving technology in your sphere?
The sustainable challenge is pushing for a responsible approach, and we will cooperate even more with the package designers. Moreover customer data will increase engagement with end users, taking advantages from smart labels opportunities through augmented reality.
What would you say is the biggest common misconception that you encounter in your business?
Experience makes us flexible, technology makes us integrated and empathy makes us special, but ideas make us unique. We experienced a transversal fertilisation in our team that has generated innovation and resulted in multi-product solutions.
If the wider packaging industry could be transformed in some way, what kind of change would you like to see?
Over these years I have built a strong identity with our creative agencies, learning the most strategic branding design mechanics. Fostering integration in our supply chain between the conception and converting phases is the winning approach.
…and how do you envisage your company changing the industry in the coming years?
Being a young mother allows me work even more actively towards the realisation of our social commitment. Promoting education through our organisation, encouraging the formation of our employees' children is my personal desire, allowing everyone's attitudes to be valued. I am therefore very proud of our support of the Ellen MacArthur foundation.