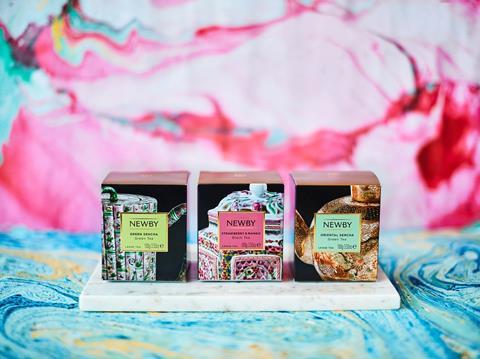 Leading luxury tea company Newby Teas has been awarded bronze in the Luxury - Gourmet Food category of the Pentawards for its superb design of Newby's newly launched Heritage Collection. The Pentawards is a prestigious worldwide competition dedicated to recognising excellence in packaging design.
Inspired by Newby's mission to reacquaint the world with the culture and history of tea, the award-winning Heritage Collection is a new range of 14 premium loose leaf teas. Newby's in-house creative team worked in partnership with internationally renowned London design consultancy Lewis Moberly to develop the new collection. Each box is adorned with an image showcasing a treasured item from the world's largest privately-owned collection of historic tea wares, the Chitra Collection. While each box is a stand-alone pleasure for tea lovers, the entire collection together tells a story about Newby Teas, the Chitra Collection and the history of fine tea – making the presentation of the tea just as exquisite and compelling as the taste itself.
Nirmal Sethia, Founder of Newby Teas and owner of the world's largest private tea accessories collection, the Chitra Collection, said:
"At Newby, we are dedicated to reacquainting the world with the culture and history of tea. We refuse to strive for anything less than excellence and the new Collection is no exception.
"If it is not perfect, we don't accept it. We are delighted to receive this Pentaward that recognises the team's hard work ensuring the quality of packaging matches the quality of product."
This award brings the total number of awards won by Newby Teas to 121, ranging from design to taste and innovation. Mary Lewis, Creative Director of renowned London design consultancy Lewis Moberly said:
"Newby are setting the standard in tea packaging design. They raised the bar with the award winning Finest Tea Collection and it has been very exciting bringing this latest design to fruition and to win this prestigious design award."
More info: