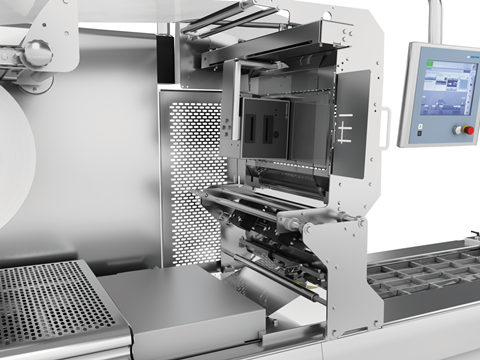 In the second half of 2020 MULTIVAC has launched a new series of BASELINE direct web printers for thermoforming packaging machines in the lower and medium output range.
According to the company, the main features of these models in the BASELINE DP 110/130 series are space-saving design, optimum hygiene characteristics, and a high level of flexibility in terms of printing technology.
Both models can be installed on all thermoforming packaging machines from the R 0xx to R 5xx series and, since no enclosure is required due to the stepper motor drives used, this reportedly means that access to the printer is quick and easy.
There are three different printing technologies available, thermal transfer, inkjet, and thermal inkjet, and users of MULTIVAC TTO (thermal transfer) printers apparently benefit from cost savings in ink ribbon consumption.
The new printers can also be turned through 90 degrees so that they can print in both the pack running direction and across the packs.
The shifting indexers as well as the MULTIVAC printers can be operated directly via the control terminal of the packaging machine, while the operating parameters are saved via recipe management and automatically transferred at every batch change. According to the company, this ensures that there is a rapid conversion to other products and pack sizes, which in turn provides a high level of line availability.
If MULTIVAC printers are used, operators also reportedly benefit from automatic print layout management via the MULTIVAC HMI control terminal. When the recipe for a particular product is called up, the correct print layout is loaded automatically.
New to the range is the MULTIVAC Standard Plus XL thermal transfer ribbon, which achieves a running length of up to 1,200 metres thanks to the reduced thickness of the carrier material. MULTIVAC reports that this results in the number of necessary roll changes being reduced, which in turn apparently reduces downtime and increases the efficiency of the packaging line.
If, however, there are greater demands in terms of cycle output and printing accuracy, MULTIVAC is still able to offer the DP 2x0 direct web printers for all models of MULTIVAC thermoforming packaging machines.