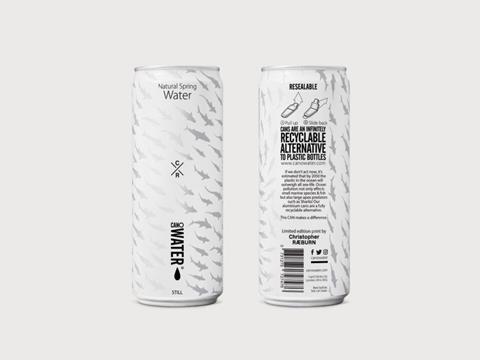 As part of its #OneLess campaign, The Zoological Society of London (ZSL) has introduced a new range of canned water at its London and Whipsnade Zoo sites from 22nd March (World Water Day).
This follows ZSL's commitment to stop using single-use plastic drinks bottles, originally announced in 2016. In a collaboration with ethical fashion designer Christopher Raeburn, innovative cans with shark motifs by CanO Water go on sale at ZSL's two zoos from 22nd March. CanO Water, a British start-up, use highly recyclable aluminium and designed the cans with a resealable lid, so they can be carried in your bag like a reusable water bottle. The cans can be widely recycled across the zoo.
"I was really impressed by the concept", says Christopher Raeburn of the collaboration. "Because of my long association with animal welfare charities this partnership makes perfect sense".
The campaign marks another significant shift by retailers, attractions, companies and businesses across the UK as they commit to using plastic alternatives and overhauling current water suppliers. Josh White, co-founder of CanO Water says, "We use aluminium cans which protect the water from light, oxygen and other elements which can affect taste and water safety. Aluminium has the highest recycling rate of any drink out there. Recycle a can and it could be back on the shelf in as little as six weeks". Several business giants have already made the switch, including Visa and Sky, along with Buckingham Palace.
Kathryn England, ZSL's Commercial Director, said: "This collaboration is a new and creative way to engage consumers and we are excited to be stocking these beautifully designed drinks across both our Zoos. We have already reduced our plastic waste footprint by over one million single use plastic bottles just at ZSL London Zoo since 2016. If we can continue this rate of change, while encouraging our visitors to make simple changes at home, we can continue to play a vital role in improving the state of our oceans". ZSL is a founding member of the #OneLess campaign, which aims to reduce the amount of plastic waste entering the ocean from the Thames by encouraging a refill revolution that reduces consumption of wasteful and polluting single use bottles.