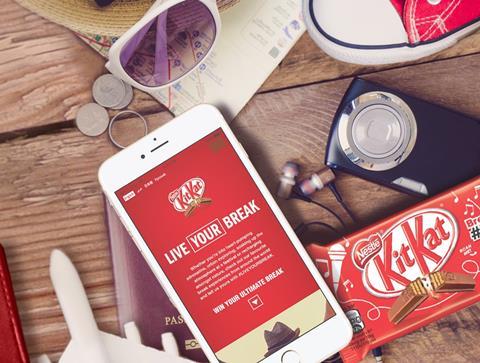 Nestlé International Travel Retail is continuing its roll out of its 'LIVE YOUR BREAK' campaign, launched in summer 2017, with global creative agency Anthem Worldwide.
The campaign is designed to target four different profiles of Millennial traveller; the Urban City Breaker for city explorers, the Festival Breaker for live music lovers, the Wellness breaker for those who like to disconnect and the Adventure breaker for those who believe the world is their playground. It will cover over 35 locations in travel retail including 20 airports globally. KITKAT is synonymous with breaks so it's the perfect brand to engage with consumers on their travels and their ultimate holiday break.
Anthem's 'LIVE YOUR BREAK' campaign engages the different millennial traveller communities by encouraging them to use the hashtag #liveyourbreak and creating and sharing their ultimate travel break dream through a short video on their social platforms, supported by branded POS in global travel retail. One lucky fan gets the chance to live their ultimate travel break. Designed by them, lived by them. The agency developed the strategy, line and platform for the shareable, connected pack campaign and created further engagement via a 'LIVE YOUR BREAK' backpack, gift with purchase, as well as a full engagement toolkit to support the launch and implementation.
Matt Knoepfli, senior brand manager, Nestlé commented: "KITKAT is a brand that is about breaks and helping people enjoy their breaks to the fullest. Travel is the ultimate break as we step out of our daily routines and the KITKAT brand is perfectly placed to connect with travellers. We want to create brand experiences that contribute to a bigger, unforgettable travel journey that people can hold on to. That's the best souvenir of all and if we're successful in doing that, everyone wins – the brand, the retailer and the consumer."
Mark Hewitt, Group Managing Director EMEA at Anthem added: "This has been a great project that builds on the tactical, 'one off' promotions of the past towards a longer-term platform that can support multiple campaigns over time. More than ever before, Millennials are turning towards travel as they place a higher value on experiences over material objects. Experiences have become the new currency of life. This campaign allows KITKAT consumers to capture and share a place they want to visit and things they want to experience in their life."
Due to the continuing success of the ongoing international activation, KITKAT is due to unveil its global 'LIVE YOUR BREAK' 2.0 campaign next year across selected hub airports internationally.
More info: