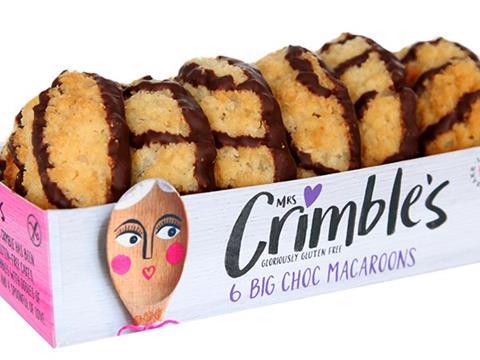 MRS CRIMBLE'S, the pioneering gluten-free brand owned by Wessanen UK, has unveiled a striking and contemporary brand identity that is set to be rolled out across its entire product range, beginning with its category-leading Choc Macaroons this summer.
The new look and feel, created by design agency Big Fish, colourfully and memorably brings the long-established Mrs Crimble's brand to life in the form of a wooden spoon character, evocative of the brand's delicious baked treats that are made, not manufactured.
Mrs Crimble's creates liberating and life-affirmingly delicious gluten-free baked treats that are suitable for all to enjoy. The bold brand move looks to elevate Mrs Crimble's reputation for offering grown up and inclusive indulgence, perfect for sharing with friends.
The beacon brand in the gluten-free market was created over 30 years ago and is now one of the UK's biggest cake brands. It has been calculated that one of its best-selling Choc Macaroons is eaten every second worldwide.
Mrs Crimble's has garnered a sizeable free-from following, and is looking to grow this community with a consumer-centric brand strategy that focuses on championing glamourous, accessible food and irreverent humour.
The narrative of Mrs Crimble's family and friends will be told through a dedicated social and digital campaign set to run throughout the rest of 2017, which will look to garner brand fame and an enhanced online following of fans. A gradual packaging roll-out is planned across the brand's range with a host of new designs.Rebecca Vercoe, Mrs Crimble's brand controller at Wessanen UK, comments:
"Mrs Crimble's believes everyone should be able to have their cake and eat it. She doesn't hold back on enjoyment, and her oven baked macaroons, cakes, biscuits and nibbles are there for all to enjoy. Mrs Crimble's new brand image taps right into her mission: to make joyfully, gloriously and inclusive gluten-free treats."
One in 100 people are currently diagnosed with coeliac disease, according to Coeliac UK, while 13% of the UK's population currently avoids, or is cutting down on, gluten – the highest proportion in Europe. A further 8% would like to cut out gluten from their diets, and the free-from market continues to grow rapidly.
"It can feel very isolating to follow a gluten-free or free-from lifestyle, but that shouldn't be the case," adds Rebecca Vercoe. "Mrs Crimble's goal has always been, and continues to be, to make cakes, biscuits, macaroons and nibbles that taste every bit as good, if not better, than gluten-containing alternatives. The new face of Mrs Crimble's will bring greater interest and visibility to the free-from aisle with much more fixture standout, and will show the world that gluten-free doesn't have to mean taste-free."
Mrs Crimble's current brand portfolio includes a range of different pack formats, price points and variants to suit both consumer and trade needs. The brand recently became the first of its kind to launch cake bars within the food-to-go section of convenience outlets – including over 1,500 Tesco Express stores across the UK – making free-from products more accessible.
More info: