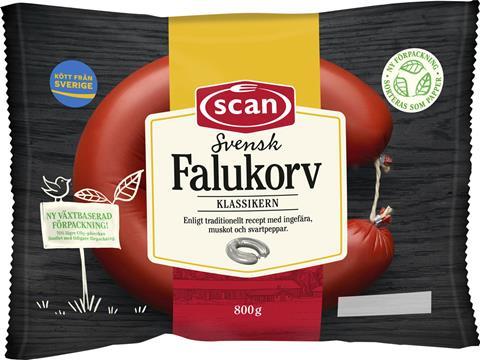 Packaging and paper group Mondi has unveiled its collaboration with HKScan, a Nordic food manufacturer, to provide paper-based packaging for its bestselling Falukorv sausage.
HKScan claims that sustainable packaging is a "high priority" for the company, which has set itself a net-zero carbon dioxide emissions target by 2025. It adds that the company intends to achieve a carbon-neutral food chain by the end of 2040.
The Falukorv sausage is one of HKScan's most purchased products selling 8 million units a year in Sweden alone. The Scan Falukorv 800g sausage, which used to be packaged in plastic multi-layer material, has now transitioned to Mondi's paper-based packaging.
The new packaging is apparently comprised of renewable materials, including responsibly sourced paper and bio-based plastic. Mondi claims the paper used in the packaging is sourced, coated, and printed in Sweden, reducing the need for transportation.
Mondi says that it used its EcoSolutions approach to collaborate with HKScan's research and development team. The new packaging, Mondi adds, is meant to ensure the Falukorv sausage remains fresh and intact during transportation, while also providing quality print for presentation on shelves.
Jonas Fridberg, business solutions manager of functional paper and films at Mondi, says: "Our aim is always to develop fit-for-purpose packaging that is sustainable by design.
"Our work with HKScan to facilitate their switch to recyclable and renewable paper packaging for Scan Falukorv 800g is a great example of that."
The project apparently ensured HKScan did not have to make any changes to its existing production lines. The new packaging can also be disposed of in Swedish paper recycling streams, according to the company.
According to Maria Häger, director of quality and environment at HKScan Sweden: "Reducing our environmental footprint is one of our most important priorities at HKScan.
"The barrier paper from Mondi is a valuable piece of the jigsaw puzzle, enabling us to proudly announce this new, recyclable packaging for our Falukorv sausage, reducing its CO2 impact from the previous solution by 70%.
"This represents a vital step in our sustainability journey and is helping us get closer to achieving our climate targets of a carbon-neutral food chain by the end of 2040."
This is one of Mondi's many recent collaborations with have sought to supply sustainable packaging and boost circularity goals. Also in the food segment, Mondi and Unilever developed a paper-based and aluminium-free packaging material for Colman's, which it says can be recycled in existing paper waste streams.