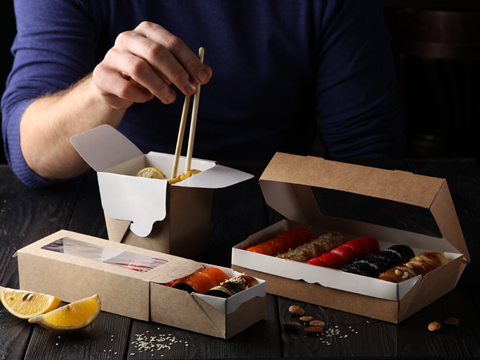 Natalia Shamina, head of sales for North-Eastern Europe at Mondi, and Michael Comi, CMO & CCO International at DOECO, go in-depth on their companies' collaborative approach to producing fibre-based trays for the foodservice industry.
---
To start us off, could you give our readers some background on the relationship between DOECO and Mondi?
MC: DOECO was founded in 2009 in Russia. Back then we had around six different products in our food packaging portfolio; today we have more than 300 globally.
NS: In 2015 Mondi started to provide DOECO with quite small volumes of one of our fresh fibre paper grades produced in Syktyvkar/Russia, but we were growing rapidly together – similar to the number of products DOECO has today. Only five years later, we are supplying over 30 times more paper.
The collaboration between your two companies centres on providing solutions for the food industry. In your view, why is sustainability so important in this field?
MC: DOECO's mission is to reduce the amount of waste produced in society and support businesses to endorse sustainable food packaging and improve their environmental footprint. There is a prevailing trend in the food industry for sustainable packaging, and our customers ask more and more for eco-friendly packaging.
In addition, governments are adopting new regulations in that regard. In July this year, the Single-Use Plastic Directive of the European Union will come into effect. It also tackles food containers made of expanded polystyrene (EPS), for which our sustainable product lines are an ideal substitute – they are either recyclable or fully biodegradable.
In our foreign markets (outside Russia) we grew by nearly 350% from 2019 to 2020, a company record. Even if this development slows down after the lockdowns end around the world, it demonstrates the importance of changing from plastic or EPS packaging to sustainable solutions that reduce the waste going into landfill or even worse into our oceans.
NS: At Mondi, sustainability is at the heart of everything we do. We are committed to providing innovative packaging and paper solutions that keep materials in circulation, prevent waste, and follow a principle of paper where possible, plastic when useful.
We know that end-consumers are becoming increasingly aware of environmental issues related to packaging. And we take our responsibility to provide sustainable paper seriously. In Mondi's Action Plan 2030 (MAP2030), we have pledged that 100% of our products will be reusable, recyclable or compostable by 2025. In this case, we can support DOECO in their mission to reduce waste with our FSC-certified and fully biodegradable ProVantage Komifresh.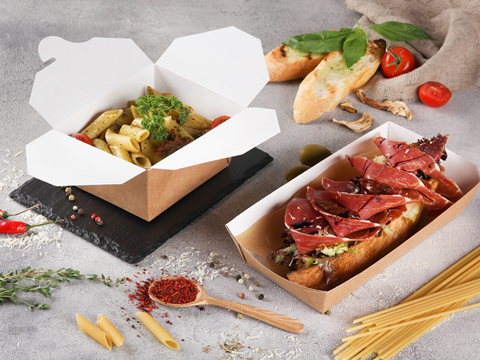 Both Mondi and DOECO products cover 55+ countries. Are there any particular differences in how sustainability is approached across the different regions you do business in?
NS: Sustainability is a global challenge. When it comes to the reduction of plastic waste, we see different approaches around the world. Michael already mentioned the Single-Use Plastic Directive. The EU Circular Economy Action Plan targets a review and update of several areas relevant for packaging, including food contact materials. When providing paper for the food tray industry, the most important aspect is consumer safety.
Our cooperation with DOECO started in Russia, which had and still has different regulations for food packaging than European markets. Even within the European Union, regulation can vary from country to country. When DOECO expanded to markets outside Russia, we further developed our paper offer to make it suitable for food regulations in other countries as well.
MC: Russia follows quite closely what happens in the EU. We might see a similar approach to regulation in the near future. Nonetheless, with DOECO being a pioneer in Russia in promoting sustainable food packaging, we are actively driving the change to a more eco-conscious mindset.
Consumer safety is at the forefront, that's clear, but it is indeed a challenge to meet the different regulatory requirements. That's why we have decided to go with the highest standards. All our products are certified for food contact accredited by well-known certification bodies in Europe.
What technical challenges have to be overcome when developing paper-based solutions for the food industry?
NS: We are always working closely together with our customers to understand their needs and expectations regarding strengths, stiffness, absorption of moisture, etc. The food industry is, as mentioned before, special because of the high regulatory standards. We also need to ensure that all components from raw materials to additives are compliant with food applications.
MC: The challenges are numerous – each customer has different requirements for the final product and we as a company try to satisfy all these needs. That said, one of the main challenges we need to tackle is to produce paper packaging that withstands high temperatures and is microwave safe.
Therefore, we have assessed carefully what type of raw materials we use for the production of each product line. Mondi's Komifresh has helped us to overcome all the challenges, as the material is quite flexible. It allows us to modify it in different ways, so we are able to produce hot content packaging that is used for baking up to 200°C and freezing from 0°C to -40°C, while being completely safe for microwave use, too.
What does the future hold for Mondi and DOECO's collaboration – are there any other projects on the horizon?
MC: We are very proud of the development of our business over the last few years, and we predict solid growth in the future. Right now, we are preparing to launch a new brand that will meet customers' demands in Europe even better. We are committed to growing that together with Mondi as this has proved to be a reliable, successful partnership.
However, we will not only continue with our existing relationship, we also want to improve and work on new features of our products together. Our R&D Departments will continue to collaborate to find alternative packaging solutions to address the need of mitigating food waste and extending the shelf-life of food products.
NS: Mondi has extensive expertise in solving sustainability challenges with packaging, and we are more than happy to evolve sustainable food packaging together with DOECO. As a company, we are committed to tackling the issues of food waste. We all have a role to play – waste occurs throughout the value chain. In the developed world it is most prominent during consumption, with around 52% of European food loss and waste occurring with consumers, restaurants, and caterers.
As we look to address this issue and mitigate the problem, sustainable packaging can play a vital role. Innovations in paper and plastic packaging can extend shelf life considerably, providing convenience and portion sizes for consumers, for example fruit, meat, flour and pasta.