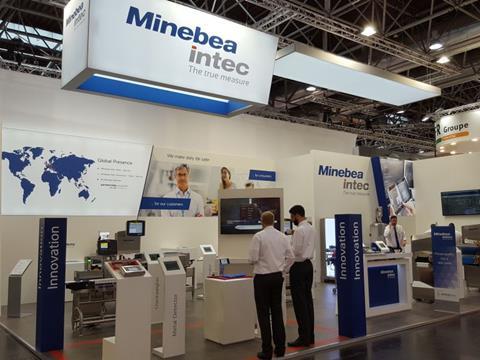 The leading supplier of industrial weighing and inspection technologies will present, among other things, its full product portfolio for foreign body detection including metal detection and x-ray systems.
Minebea Intec continues to expand its range of solutions for foreign body detection with the introduction of a new x-ray inspection system: "Dymond Bulk" is set to be unveiled at the PPMA show in Birmingham, UK. This innovative inspection system was developed specifically with bulk goods in mind, and is particularly suitable for processes between incoming goods and packaging lines in the food industry.
Dymond Bulk reliably inspects bulk goods like nuts, smaller fruits, frozen vegetables, and also spices, coffee and seeds, and rejects any foreign bodies it identifies. The x-ray system not only identifies foreign bodies made from metal, plastic and stone, but also bits of dirt and glass, which has obvious benefits for all goods that are introduced into the production process "straight from the field". "In food production, the 'sorting and cleaning' stage for raw materials is by no means a precise science" explains Global Product Manager Michael Zabawski from Minebea Intec. "The x-ray inspection system Dymond Bulk can make a significant difference here, increasing safety and quality within the production even before the refinement process."
Dymond Bulk stands out because it is user friendly. A conscious effort has been made to simplify the complex technology for the user: from real-time detection via colour-based contamination analysis, through to straightforward belt replacement and an easy-to-clean inspection system. Therefore, a really intuitive and reliable x-ray system.
Dumped, pumped or individually guided?When it comes to processing granulated raw materials and foodstuffs, Minebea Intec offers another reliable checkpoint in the form of the Freefall Metal Detection System Vistus. This modular detection system can be equipped with tubes and rejection devices that are suitable even for dusty products or granules. It detects and eliminates all metal foreign bodies including ferrous, non-ferrous and even non-magnetic stainless steels.
The real highlight of the Freefall Metal Detection System is the "True In-Process Validation". Here, test pieces can be introduced via a lockable slot using an applicator. This process enables proper performance validation - in the center of the search coil and centrally to the production process.For inspection of packaged food Minebea Intec also offers combination systems such as the in-line checkweigher Synus combined with the metal detector Vistus, the so called Co-Synus.
Statistical Process Control 3.0It is also possible to compile measurement data in a meaningful way. For intelligent and networked data processing, at PPMA, Minebea Intec will be presenting a new software release for statistical process controls: SPC@Enterprise 3.0 converts all measurement data into useful information, even in the areas of foreign body detection and dynamic checkweighing, also in combination with other Minebea Intec or external devises such as scales, which help to ensure product quality, food safety and productivity. For efficient monitoring, documentation and control as per pre-packaging legislation, quality and hygiene standards.
Come and meet Minebea Intec at the PPMA show 2017 in Birmingham from September 26 - 28, Stand: A30
More info: