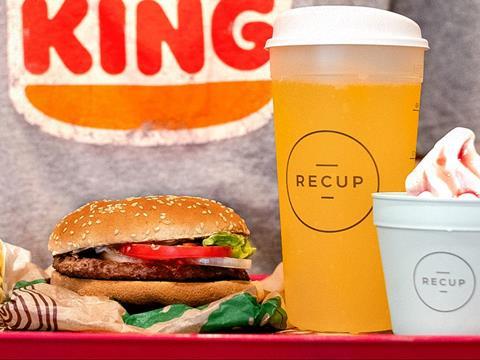 Burger King's German restaurants are implementing reusable and recyclable polypropylene cups for their beverages, milkshakes, and ice cream products through the RECUP deposit return system in the hopes of conserving valuable packaging resources and reducing waste generated from single-use cup solutions.
Reportedly, RECUP products are 100% recyclable and free of harmful substances and BPA. Each cup is expected to replace 1,000 disposable cups in its lifetime, suggesting that its use will both save resources and cut down on environmental pollution.
Consumers can make a deposit of €1.00 each to obtain a RECUP cup and deposit lid, which can then be used to contain drinks, milkshakes, and ice cream from any of Germany's 750 Burger King restaurants or their drive-thru services. They can also be returned to any Burger King establishment or to 18,500 RECUP distribution points throughout Germany, where they will apparently be sent for dishwashing per hygiene regulations and put back into the reusable sector.
Furthermore, each RECUP comes with a CoffeeCup Paper sleeve, said to be made using both wastepaper and 25% paper fibres sourced from recycled disposable cups. Such a solution is expected to keep the approximately 1.7 billion single-use cups used in Germany every year in the paper cycle, as the sleeve itself is thought to be recyclable for up to 25 further cycles in existing wastepaper streams.
Last year, Burger King partnered with Loop to pilot a range of reusable and returnable packaging for its burgers, sides, and drinks across selected restaurants in the UK. McDonald's undertook a similar collaboration in 2021 to run a returnable coffee cup scheme in six of its UK restaurants.
More recently, Rimi worked with Ringo to pilot reusable packaging in Rimi's ready-made food self-service counters at its stores in Põhja, Telliskivi, and Tornimäe – a move hoped to encourage the utilisation of reusable packaging solutions amongst consumers.