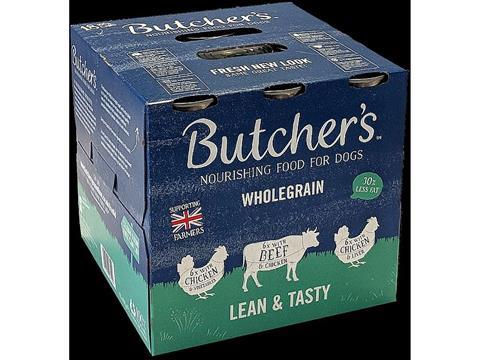 Graphic Packaging International ("GPI") has teamed up with leading British manufacturer of food for dogs, Butcher's Pet Care (Butcher's), to replace shrink film multipacks with sustainable fully enclosed carton board multipacks for its 6, 12, 18 and 24 formats.
The collaboration, which has the potential to eliminate the use of 6.4 million square metres of plastic wrap per year (equating to 92 tonnes of plastic), supports Butcher's move to offer recyclable packaging to its customer base.
The fully enclosed carton is 100% recyclable post-consumer and is the first of its kind in the pet care market to be manufactured in the UK. Glyn Champion, UK Sales Director at GPI, commented: "Replacing Butcher's existing shrink film wrap with a fully enclosed carton was a very straightforward process for GPI. Our challenge, as an established sustainable packaging provider, was how we could add value to the solution that differentiates Butcher's from its competitors."
"To achieve this, we've added easy-open tear strips. And for the larger packs in the range, which are typically difficult to handle, we've introduced a twin layer pack that incorporates a carry handle feature. These elements were not present in the previous shrink film design."
The use of Aqua-Kote virgin craft board for a premium look and optimum tear strength has increased shelf standout in a notoriously competitive space and enabled post-consumer recyclability. The addition of new features has created a more user-friendly solution for the consumer.
To facilitate the production of the new fully enclosed carton concept, GPI has installed one of its Quickflex® Twin Stack machine at Butcher's Crick, UK, site. The machine is engineered to accommodate multi-diameter/multi-height cans with tool-less changeovers and pack at high speeds.