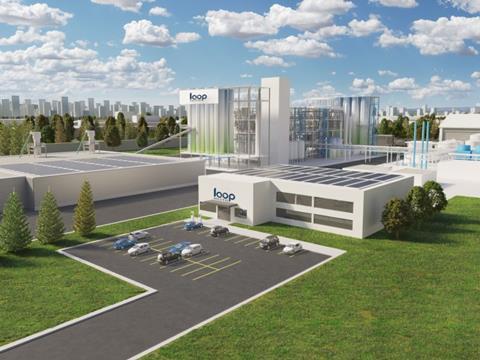 Plastics technology expert Loop Industries and environmental services provider SUEZ, have announced plans to build the first Infinite Loop™ recycling facility in Europe.
Based on what is described as enhanced recycling, the aim is to produce virgin quality, food grade, 100% recycled and infinitely recyclable plastic.
"Loop's patented depolymerisation technology enables waste plastic to be recycled an infinite number of times, with no degradation in quality. It requires low energy, is industrially scalable and produces virgin-quality, food-grade PET plastic and polyester fiber made from 100% recycled content that is infinitely recyclable with no degradation in quality," Loop founder and CEO, Daniel Solomita tells Packaging Europe.
Combined with the expertise of SUEZ, the Infinite Loop™ facility will respond to the in demand in Europe from global beverage and consumer goods brand companies, committed to aggressive targets for a high level of recycled content in their products. This new enhanced recycling facility dedicated to PET plastic is setting out to be the largest in the world, with the potential to produce the equivalent of approximately 4.2 billion food grade beverage bottles made of 100% recycled and infinitely recyclable PET plastic annually. Feedstocks for the facility will be sourced by SUEZ from its broad-based collection and sorting facilities, both from commercial and municipal waste.
By leveraging Loop's technology, this facility projects to able to claim savings of 180,000 tons of CO2 annually, compared with virgin PET production from a traditional petrochemical process. These savings are equivalent to approximately 418,000 barrels of oil.
"SUEZ has been involved for more than 10 years in mechanical plastic recycling, while investing constantly in research & innovation. In 2019, we processed 450,000 tons of plastics across Europe and produced 150,000 tons of recycled plastics. Highly convinced by the complementarity between mechanical and chemical recycling solutions, we are thrilled to be part of this innovative project with Loop Industries as it will expand our offer and our solutions improving the economic and environmental performance of our industrial customers, but also contributing to a sustainable resource management," comments Jean-Marc Boursier, SUEZ Group COO.
"Expansion of our technology across Europe has always been of high strategic importance for Loop and our customers. We are beyond excited to be working with the excellent team at SUEZ, who bring a complementary skill-set to Loop's team with their deep knowledge in resource management," adds Daniel Solomita.
"Europe is leading the charge against petroleum-based plastics: through tougher regulations and taxes, they are setting a global example on transitioning to a more circular economy. The Infinite Loop™ technology creates the infrastructure countries need to be able to eliminate plastic waste and increase recycling rates. Loop's expansion is tailored to our customers' needs allowing them to meet and exceed their ambitious targets for recycled content in their packaging, but also to have the ability to recycle their packaging infinitely, without having to compromise quality."
In terms of milestones and next steps, SUEZ and Loop Industries will join their resources to identify the most suitable location to build the facility, develop the feedstock supply chain strategy, finalise discussions to secure offtake agreements with customers and develop an EPC cost estimate for the facility.