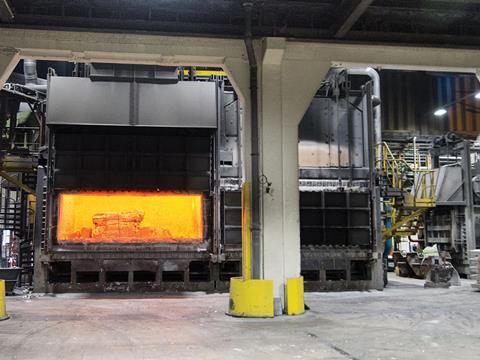 Eurofoil is a market leader for foil in liquid and flexible packaging, containers and heat exchangers in Europe and delivers foil to a variety of blue chip customers all around the globe. Packaging Europe spoke with Antonio Falchi, Managing Director and Amanda Willepotte, Sales & Marketing Manager, to find out the key reasons for Eurofoil's attendance at interpack 2017, and about what sets the company apart.
Based on strong roots in the giants of the aluminium industry, Alcan, Pechiney and Novelis, Eurofoil today is an independent, company with a family oriented management style. It is owned by a private equity group specialising in the metal industry – AIAC -the American Industrial Acquisition Corporation. Eurofoil defines itself as a mid-size company with the flexibility to find quick solutions.
Progressive facilities
Eurofoil has two world class rolling mills located at the crossroads of Europe, in the Normandy region of France (Rugles) and near the French and German borders in Luxembourg (Dudelange). Both plants are dedicated to the production of aluminium foil from 6 µm up to 300 µm.
Supporting these plants, the Eurofoil Innovation Centre is a dedicated R&D and technical support centre for aluminium foil. Established in Belvaux within the Luxembourg Institute of Science and Technology, the Eurofoil Innovation Centre was the first industrial company located in the heart of Luxembourg's future 'science city'.
Eurofoil Paper Coating is a converting plant based in Berlin, Germany. It has world class laminating and lacquering lines, metallisers, slitting facilities, fully automated robot systems and a rapid prototyping pilot line.
Dedication, experience and autonomy
With on site continuous casting and recycling Eurofoil has a highly independent supply chain which enables quick, flexible responses to its customer's requirements. Antonio Falchi comments, "Continuous casting is a shortened process which enables us to recycle all industrial scrap (our own and from our customers), in house. By optimising our casting and downstream processes, we can respond very quickly to customer requirements."
Eurofoil has six decades of experience in the aluminium and packaging industries. Through research projects and exchange of best practices over the years, Eurofoil has learned to develop and manufacture aluminium foil best suited to ensure customers' product performance.
The Eurofoil Innovation Centre is a unique R&D facility fully focused on aluminium foil. This combined with plant based quality teams and dedicated technical customer account specialists enables the company to bring dependable answers to a broad range of specification demands. Eurofoil is committed to producing good quality foil, with uniform characteristics.
Antonio Falchi highlights, "Approachable and efficient account teams and an embedded customer focused culture ensure the voice of our customers are heard throughout the organisation. Eurofoil has strong long standing relationships with key customers based on partnerships developed over the years."
Areas of expertise
Eurofoil is the leading manufacturer using the continuous casting method to supply high quality foil products, enabling the company to become market leaders in Europe. It offers a comprehensive product range with technical specifications adapted to market needs, and ensures the supply of high quality foil to customers in a range of sectors.
Amanda Willepotte explains that Eurofoil supplies five major product segments, "Firstly we supply converter foil for packaging applications, typically for food and pharmaceuticals; aseptic cartons, lidding, laminates, blister foil, pouches, and cheese foil. Eurofoil is a leading supplier of converter foil to key customers with a worldwide footprint, we supply to plants all over the world. Meeting the constantly evolving needs of our customers and understanding their end consumers is a priority for us. The company's investment in research and development seeks to continuously optimise the performance of its foil."
"We also supply foil and strip for industrial applications, such as insulation and tapes, and container foil for wrinkle wall and smooth wall applications. Eurofoil is a market leader in the European container foil market, noted for good quality reliable and consistent products, delivered in short lead-times with flexible and efficient customer service. We also supply industrial and automotive fin stock, a highly engineered product requiring superior gauge control capabilities, precise narrow width tolerances and exacting chemical and physical properties."
Each of these critical variables is met with industry leading technology and product development support.
interpack focus
"At interpack our sales and technical teams will be present to meet our existing customers and new contacts," says Amanda Willepotte. "We will present the range of products supplied by Eurofoil but also our outstanding customer service and customised supply chain solutions. Our supply chain solutions will be a key part of our discussions at interpack, taking full advantage of our continuous casting and supply chain independence."
Users of aluminium foil and packaging products need to be in complete control of their raw material supplies, in particular those who supply demanding markets such as the automotive, food, tobacco and pharmaceutical industries where short lead times are expected. In order to fulfil this need, Eurofoil continuously optimises production availability and the flexibility of its processes to offer short delivery lead-times and a rapid and reliable service.
Amanda Willepotte adds, "interpack is the ideal forum for us to meet and talk to our customers and stakeholders in companies we may not usually be in contact with. It is an opportunity for us to get closer to our customers and understand their needs and expectations. Our developments are customer led so the opportunity to engage with multiple stakeholders in an informal environment often sparks ideas which lead to future projects. We also look forward to making new contacts and exploring new as yet undiscovered opportunities."
Strengthening partnerships
Partnership is key to Eurofoil. "Our main focus is to continue to develop and strengthen current partnerships and grow with our customers organically. We want to be our customers preferred supplier. As partners, both companies should listen to each other, help each other and complement each other. We want to know how our customers consume and how their clients produce in order to be better informed and to react faster to the needs they may encounter. Together we can minimise stock and improve efficiencies," explains Antonio Falchi
He concludes, "We aim to harness the potential of the independence we have through continuous casting to become the most reactive foil supplier."
Visit: www.eurofoil.com