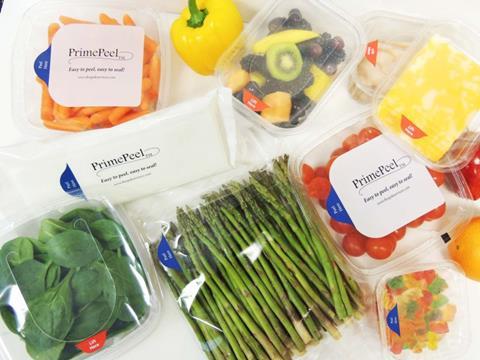 LasX Industries, Inc., an industry leader in high performance, production class laser converting systems and services, is set to present its innovative packaging solutions during interpack 4-10 May, 2017 in Düsseldorf.
Featured on the LasX stand in hall 8b / C96 will be a variety of laser cutting, scoring, and perforating processes powered by patented LaserSharp® digital converting technology, in addition to showing new packaging products for the flexible packaging and folding carton industries.
Founded in 1998, LasX designs and manufactures high-performance industrial laser systems for on-demand converting applications that serve the flexible packaging, folding carton, medical, textile and electronics industries. More than 500 LasX standard and custom converting solutions for laser cutting and other processes have been installed. LasX's sister company, LaserSharp FlexPak Services LLC, provides confidential package development services and licenses innovative packaging products. LasX has a global presence, with facilities located in the USA and Germany.
Packaging SolutionsWilliam Dinauer, managing director of LasX Europe GmbH, explains that at Interpack the company's focus will be on two markets: flexible packaging and folding cartons sectors, and educating show visitors about the innovative end-use packaging products they produce. While the company is an established leader in these sectors in North America, many of their solutions will be new to EMEA markets.
"The flexible packaging trends are in one word focused on 'convenience' — easy to open, quicker to consume, and longer shelf-life," said Juan Carlos Tinoco, general manager of FlexPak. "One of our objectives at Interpack is to create awareness and more visibility of our CAP (controlled atmosphere packaging) and PrimePeel® (PP) peel-reseal packaging products and license these patented products in Europe."
Besides the packaging world rapidly changing to personalized packaging through digital print, folding carton manufacutures are being challenged by luxury and medical customers with more complex carton designs and short-run production orders. LasX's CartonsInMinutes® solution offers carton manufacturers a modular finishing platform to meet this need. Whether roll or sheet format, conventional or digital creasing, complex or variable shapes, easy-open or tamper protection, CartonsInMinutes delivers complete digital finishing of folding cartons.
LaserSharp EquipmentLasX LaserSharp® systems offer multiple processes in a single production run: laser cut, kiss-cut, score, etch, perforate, weld, and ablate thin flexible materials with precision. "LasX delivers a process solution, not just a machine," said David Pung, vice-president, Business Development LasX Industries, Inc. "We are an engineering driven company that will work with customers to deliver a laser process guaranteed to meet their needs. Our installed solutions are known for their flexibility, reliability and expandability. They are truly a low maintenance, industrial solution."
For high-speed slitter rewind equipment and other flexible packaging equipment, the FM system is a laser processing retrofit designed for accurate pattern positioning, drilling and scoring. Up to six LaserSharp processing modules, each with independent scanner heads for variable laser processing, can be used to perform a variety of laser scoring and perforating processes in a single pass.
Featuring automated folding carton production, the CartonsInMinutes® (CIM) system combines the versatility and precision of laser finishing with automated robot sorting to produce folding cartons in short production runs. With the laser tightly integrated with the robot, a single job file drives the duties of both the laser and the robot. The CIM features vision registration technology that synchronizes precision through-cutting and robotic handling – stack, sort, rotate and/or shingle finished parts.
"Our key objective for the next year is to achieve growth of the EMEA market," concluded Dinauer. "We recognize the market for flexible packaging is growing, and so is the demand for easy-open convenience, breathable, and peel-reseal packaging. Our versatile laser module equipment and solutions that provide versatility and expandability can satisfy that demand, and help convertors grow their markets."
Interpack is the essential event for the food, beverage, confectionery, bakery, pharmaceutical, cosmetics, non-food and industrial goods sectors. No other trade fair in the world presents the entire supply chain.
More info: