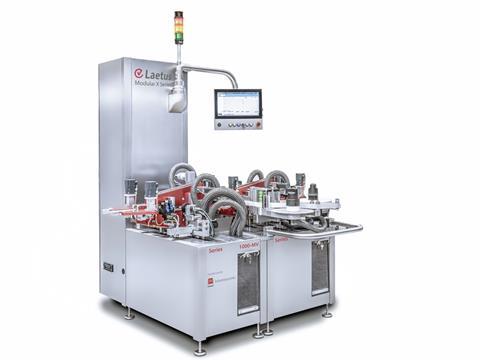 Laetus will present a wide range of solutions at this year's interpack (Hall 8b/Booth D02) for the inspection, serialization, and aggregation of products in industries such as food, FMCG, cosmetics, and pharmaceuticals.
At four stations, visitors will gain insights into technologies for inline quality control as well as Track & Trace along the entire supply chain, up to the point of sale.
Optical quality control
At the beginning of the journey through the topic of product quality and safety, Laetus will show the camera system POLYPHEM for filling inspection on blister machines. POLYPHEM inspects, among other things, the colour, shape, and dimensions of packaged tablets, capsules or ampules and detects damage as well as foreign objects. A wide variety of materials can be inspected, and defective products can be rejected. The system consists of an illumination unit and, depending on the version, one or more integrated cameras.
Cross-line control of all devices
Laetus ill introduce the new Multi-Device Manager at its second station. With this software, users can centrally control a large number of different devices like cameras, printers or RFID readers across lines. Independent of the manufacturer, all new or already used commercially available devices can be flexibly integrated. Handling is possible both via the operating panels of the COMMANDER series by Laetus as well as via web application.
Solutions for serialization and aggregation
Station three will consist of the modular serialization system Modular X 1000-MV and the aggregation platform CS-115. The Modular X series was developed to mark folding boxes with barcodes or plain text including verification. This module will be accompanied by the optional tamper-evident module Modular X 1000-TL. This module automatically applies up to 400 tamper-evident labels per minute on two sides of a folding box.
Protection and comfort for the end-user
At the end of the product life cycle, Laetus will illustrate how the serialization of finished products optimizes consumer engagement and brand protection. For potential users to get an idea of what Laetus has to offer, the company will present a shelf containing exemplary branded products at the booth. Visitors will be able to conveniently scan the products' QR codes with their mobile phones and be directed to a demo website. This feature enables companies to provide their end customers with additional information such as the origin or ingredients of the content. Seamless traceability across warehouses and delivery points moreover enables companies to detect and exclude counterfeits. In addition to its own booth at interpack,