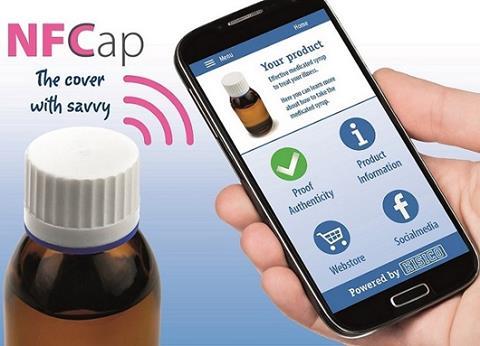 The cap that talks to your customer is a recipient of a WorldStar Packaging Award 2018.
This innovative cap features a NFC-Chip that is fully integrated in the cap, Tamper-free and invisible from the outside.
The revolutionary NFCap permits contactless communication with every NFC-enabled smartphone. Practically every modern smartphone has an NFC reader. For those without the NFC feature or for phones using iOS, there are suitable add-ons available.
NFC technology can be integrated into most of the KISICO standard products so no further costs for new injection molding tools or tool adjustments arise. Since the chip is not visible from the outside, the caps retain their design. The chip never comes in contact with the bottle contents, representing an additional advantage especially for users in the food, chemical or pharmaceutical industries.
A wide array of information can be stored on the chip. Relevant applications can be used to verify the authenticity of the product. In addition, technology-savvy audiences will use this communication opportunity between product cap and smartphone to access information stored on the chip such as links to websites, product specifications or other specifically developed apps.
KISICO stands for more than 60 years of experience in developing and producing caps and closures for many different fields of application. The comprehensive standard range of products already covers a wide scope of applications. Over the years an abundance of appropriate solutions have been compiled in close dialogue with customers.
More info: