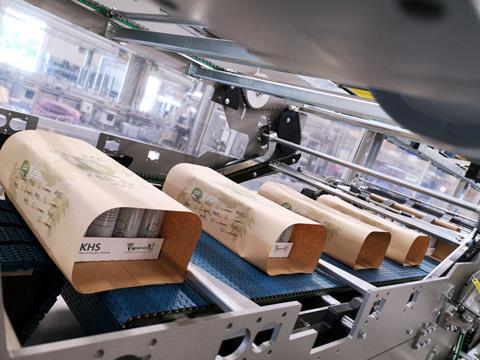 Manufacturer KHS has announced that its Innopack Kisters system now has the capability to wrap food and beverage cans in paper, as an alternative to shrink film and wrap-around cartons.
According to the company, only a few minor adjustments are needed to convert its existing system to the new setup. As Karl-Heinz Klumpe, packaging product manager at KHS, explains: "We are increasingly supplying modular systems and solutions that enable and ease the appropriate conversions to our machines. In this case, we've simply re-engineered the process module for folding and wrapping.
"The standard components such as tray separation from the magazine, gluing, or can feed are identical to those on the hundreds of proven KHS machines already on the market." The company argues that this allows beverage producers to have tray packers already in operation at their plants converted simply by adapting certain modules, making a full new investment unnecessary.
It is also the company's view that the wrapping of cans in paper has many advantages over the use of other materials. Klumpe says: "On the one hand, paper is kinder to the environment than film in terms of ocean pollution, for instance. Paper biodegrades in the environment after a few weeks."
On the other hand, KHS says that its new capability means that fewer packaging materials are used. As opposed to wrap-around cartons or film packs on trays, packaging cans in thinner paper reportedly only needs a flat, stable corrugated card pad as a base – with, according to KHS, identical results regarding stability.
Regarding costs, the company claims that they are cut by 15% when compared with wrap around cartons, with outgoings about the same as for film. Overheads are also apparently reduced, with energy consumption of around 14 kWh an hour at 80 cycles a minute.
Klumpe sees huge potential for the new KHS technology. "When I think about how much food is canned all over the world, with our paper pack we offer a useful alternative to conventional secondary packaging. With our system, we can significantly help to cut down on the amount of plastic waste being generated."