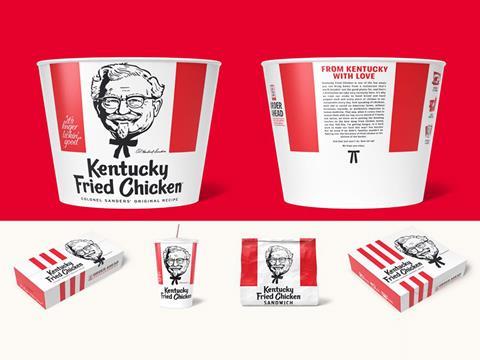 Joining other fast-food restaurants that are giving their packaging a visual redesign, KFC's new "sleek, clean and modernized packaging" will show up in restaurants early this summer.
The new packs seek to reflect the brand's identity with a more modern take on the KFC signature red and white stripes. It will feature reheating instructions – potentially due to COVID-related changes in eating habits – and the brand's iconic "it's Finger Lickin' Good" slogan.
The slogan had disappeared from KFC branding since last year, as a result of the pandemic, with representatives commenting: "We find ourselves in a unique situation - having an iconic slogan that doesn't quite fit in the current environment."
The updated buckets will also showcase a fresh "Fried with Pride" design, featuring a story on the history of KFC's world-famous fried chicken. KFC's box meals and cups are getting a new look as well, to better reflect KFC's bucket.
In addition, KFC says that its updated packaging is a step forward in the balance of business growth and environmental sustainability. The packs will be made from paperboard that has been certified by either the Sustainable Forestry Initiative or the Forest Stewardship Council (FSC), and four of KFC's new packaging items are approved for labelling by How2Recycle.