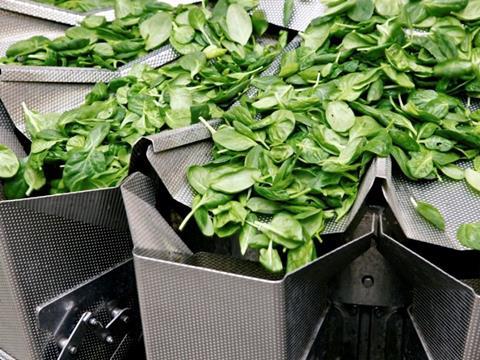 Solutions for the effective weighing, sealing and quality control of a variety of fresh produce will be showcased on the Ishida Europe stand (7.1C/A-03) at Fruit Logistica 2018.
From its comprehensive multihead weigher range Ishida will be showing a top-of-range 14 head RV series model ideal for cut or small leaf salads, and a linear design Fresh Food Weigher capable of handling the special characteristics of sticky products. Advanced inspection systems include the IX-EN 2493 x-ray and DACS-G checkweigher incorporating the Ishida Data Capture System (IDCS II) which records and analyses data from every pack that goes across the checkweigher. For growing business looking to introduce top-sealed trays or for research and development work, Ishida will demonstrate its QX-300 Flex semi-automatic tray sealer.
The Ishida CCW-RV-214W-SLD2 multihead weigher with fixed specification to handle salad offers unsurpassed speed, accuracy and efficiency thanks to its unique triple combination calculation software. This can calculate three optimal weight combinations, double check them and then select the one nearest to the target weight - all in a single cycle. This minimises error discharges, increasing efficiency while also enhancing weighing accuracy and consistency. The machine's waterproof construction provides maximum hygiene and easy cleaning.
For difficult-to-handle products such as sticky sliced fruit and marinated or oiled vegetables, the Ishida CCW-R2-106B features a linear design, with the pool and weigh hoppers fed by belts from an infeed table. This allows an operator to direct and control the flow of product and ensure a regular and consistent supply to all hoppers for consistent weighing accuracy.
With stringent quality control a vital requirement for fresh food operations, Ishida's advanced x-ray systems provide greater versatility than traditional metal detectors. They can identify a wide range of foreign bodies in bulk or packed products, including stones, glass, metal and dense plastic and rubber, as well as being able to carry out a number of other quality checks, such as deformed products or packaging.
The IX-EN model offers an affordable but highly accurate entry-level solution, which incorporates Ishida's patented Genetic Algorithm (GA) image processing software that is able to analyse image data over a number of generations to achieve a very high level of accuracy. Since many applications will require the detection of similar foreign bodies, the system can be optimised to look for these objects and help to eliminate recurring sources of contamination.
The IP66 rated Ishida DACS-G checkweigher offers highly accurate end of line weight confirmation, while the IDCS provides data monitoring and analysis that helps fruit producers manage their operations more efficiency. The system monitors the entire packing line performance to help improve Overall Equipment Efficiency (OEE) and enhance profitability.
The semi-automatic Ishida QX-300 Flex tray sealer for short-runs delivers the same high standards of performance, pack appearance and seal integrity as Ishida's inline tray sealer range, and offers sealing tool options for outside cut, shrink film and MAP (Modified Atmosphere Packs) applications. It features simple controls for fast set up and quick release to ensure speedy changeovers of films and sealing tools. In addition, the tray sealer's compact dimensions reduce floor space, and the machine is also fitted with roller castors for easy movement around the factory.
More info: