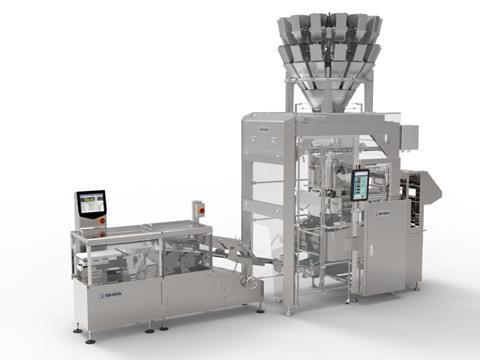 Ishida's just-launched bagmaker for snacks will take centre stage at this year's Gulfood Manufacturing alongside the company's latest developments in multihead weighers, tray sealers and advanced quality inspection systems, underlining the company's versatility in meeting a huge variety of food packing requirements.
The new Inspira bagmaker, shown in both continuous and intermittent versions, offers the highest levels of productivity performance, system efficiency and pack quality. Other highlights on display include a comprehensive inspection system for pre-packed food comprising Ishida's pioneering AirScan leak detector, advanced IX-GN X-ray inspection system and new DACS-GN-SE checkweigher; a high-performance 20 head multihead weigher; and Ishida's entry-level semi-automatic QX-300-Flex traysealer.
Ishida says the Inspira bagmaker is the world's fastest VFFS bagmaker, with top production speeds of 120 for the intermittent and exceeding 200 bags per minute for the rotary motion versions. At the same time it is able to deliver an Overall Equipment Effectiveness (OEE) in excess of 99%. It features an intuitive colour touch-screen for easy operation and machine diagnostics and improved access to essential mechanical parts
The rotary motion version is being demonstrated as part of Ishida's iTPS™, the world's only single-source packing system which combines the bagmaker with an advanced Ishida multihead weigher. …/The system on display at Gulfood Manufacturing also includes an Ishida TSC-RC seal tester, which is available with AAF auto air-fill feedback to automatically monitor and adjust the pack inflation level on the bagmaker and a force balance checkweigher that provides a high speed pack weight and fill level control solution.
The pioneering Ishida AirScan offers unsurpassed levels of leak detection with its ability to identify leaks of CO2 in MAP packs, spotting holes as small as 0.25mm at speeds of up to 180 packs per minute. In addition to its speed, the non-destructive process allows product to be re-packed.
The advanced Ishida IX-GN-4044 X-ray inspection system provides excellent sensitivity in the detection of a wide variety of foreign bodies in both packed and bulk food, with the ability to find even the tiniest amounts of steel, aluminium, tin, glass, stone, hard rubber, plastic, bones and shells at high inspection speeds. The unique Ishida Genetic Algorithm (GA) technology enables the machine to be trained to more easily detect specific contaminants and the system can also provide a variety of other quality control functions such as spotting deformed or missing product and weight estimation.
The new DACS-GN-SE has been developed as a high-value economy weigher combining exceptional speed and accuracy at an affordable price. An intuitive, menu-based display ensures ease of use and fast set-up, and an open frame design provides easy cleaning. The checkweigher can also be specified with Reject Confirmation software to help food manufacturers meet the latest retail codes of practice.
The 20-head CCW-R-220-1D-30-WP multihead weigher is ideal for frozen and fresh semi-sticky products such as chicken pieces. Advanced Ishida features include its unique combination calculation software, 5-stage digital filter, anti-floor vibration and Pulse Width Modulation (PWM). These deliver controlled feeding of product and high weighing speeds while maintaining excellent accuracy and efficiency, with speeds up to 60 weighments per minute. Special contacts parts are available to handle more challenging products and a diverting timing hopper can be specified to interface with batching tables.
The entry-level semi-automatic QX-300-Flex traysealer is ideal for low volume production runs or new product development work, providing the right balance of sealing pressure and temperature to ensure excellent pack appearance and seal integrity. Fast set-up is via a simple-to-use colour touch screen and quick release features allow easy changeovers of film and sealing tools.
More info: