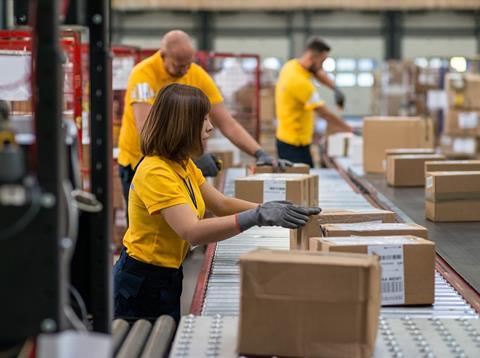 For Amazon vendors and sellers, time is running out to meet the online retailer's Frustration-Free Packaging (FFP) standard, before they're hit with financial penalties. Gavin Mounce, e-commerce Design Manager at DS Smith explores the benefits for online retailers in meeting FFP, and what they can do to prepare.
Amazon retailers in the UK, Spain, Germany, Italy and France have until the 1st of October this year to meet the deadline for complying with Amazon's 'frustration free packaging' (FFP) standard. This means that e-retailers have less than a month to get their packaging ready or face a penalty of €1.70 per unit.
The intention of FFP is to reduce waste and delight customers with easy-to-open, 100 per cent recyclable packaging. Products can be shipped in their original packaging, eliminating the need for an additional Amazon-overbox.
FFP improves the customer experience
First and foremost, a happy customer is a repeat customer. Finding ways to improve the customer experience is one of the main concerns for any business. This has traditionally been a major challenge for online retailers, as most companies have limited exposure to a customer.
Although e-commerce continues to grow year-on-year, packaging design is often not considered to be a top priority. It is not unusual for consumers to struggle to get into an uninspiring-looking box, plough through reams of excess packaging material (void fill, hard plastic shells and zip ties) and then have to work out what to do with this hard-to-recycle material.
In contrast, FFP can make a positive impression on a customer in terms of the packaging's aesthetic, and ensures recycling afterwards is straightforward.
FFP - good for the supply chain and environment
Void fill and over-packaging are major problems in e-commerce but with FFP, the packaging is made to fit the product and does not require an Amazon-overbox, so there is an automatic reduction in the amount of void fill and cardboard required. This means packages are smaller, less storage space is needed in warehouses and less raw materials are required, all resulting in lower costs. In addition, brands can expect fewer returns which are due to product damage, a reduced carbon footprint, and a greater number of items that can be shipped at a time due to smaller packaging size. These outcomes all significantly benefit the supply chain and environment.
In 2017 alone, vendors offering FFP helped Amazon reduce packaging waste by 16 per cent and have avoided 305 million shipping boxes.
The small print
FFP is defined by Amazon as follows: "certified packaging must protect the product from damage throughout the supply chain to the customer's doorstep without the need for additional packaging or prep by Amazon."
All items larger than 45 cm x 35 cm x 20 cm or exceeding 9 kg must comply to Amazon's Frustration Free Packaging by October 1st, 2019. With the exception of products containing batteries (and other products under Amazon's Hazmat qualification) and Amazon Standard Identification Numbers (ASINs) in Prime Pantry or Amazon Fresh.
To qualify, ASINs need to complete the Amazon ISTA6 SIOC test method. Amazon works closely with the official Amazon Packaging Support and Supplier Network (APASS) to help support vendors in obtaining FFP-certification. APASS official participants, like DS Smith, provide package testing in compliance with Amazon's certification test methods direct to vendors, sellers or manufacturers.
Improving standards
Amazon's initiative is a leap forward in positively changing the e-commerce landscape and raising the bar to meet consumer expectations. We strongly believe that consumers will respond positively to e-retailers that get on board and embrace FFP.
DS Smith joined the Amazon Packaging Support and Supplier Network (APASS) in 2017. As part of this, our purpose-built and independent laboratory in Hinckley, UK, sees packaging put through rigorous testing to ensure that it is easy to open and can withstand the knocks and bumps of the supply chain on its journey to the customer. This includes vibration and drop testing to ensure high-performance corrugated packaging. From this initial testing point, we then have the consultancy, design and manufacturing capability to optimise packaging for online retail.
Helping reduce waste and product damage in the supply chain while supporting brands to make their packaging more sustainable, the packaging certification process will improve the customer experience through hassle-free, easy-to-open packaging that adds significant value to a brand.