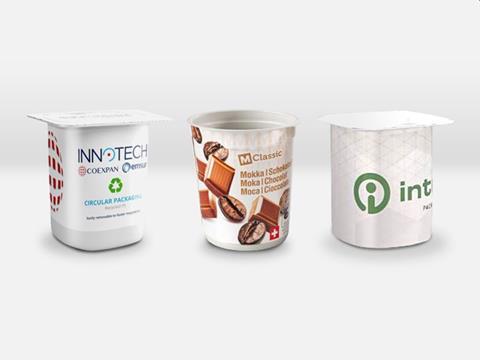 Packaging Europe recently hosted a highly attended online event with a total of 877 registrants together with Styrenics Circular Solutions (SCS), the value chain initiative to increase the circularity of styrenic polymers. The event gave insights into the circularity capacity of polystyrene, and the great strides forwards that have been made both in the areas of food contact mechanical recycling and depolymerisation and their favourable environmental footprint.
Today, we take a look back at some key takeaways of the event, explore recent developments in closed loop food contact mechanical recycling of polystyrene and take a sneak peek on what to expect in 2021.
Jens Kathmann, Secretary-General at SCS, highlights the fact that polystyrene has everything it takes for a truly circular food contact material. Big steps forward have been made, not only in chemical recycling via depolymerisation, but also when it comes to achieving this via mechanical recycling.
"Since SCS started we had only positive surprises. Styrenics are designed by their nature for recycling."
He explains, "Supply of post-consumer polystyrene is plentiful. We have 800,000 tons and more in food packaging. Sortability of polystyrene is not an issue. In fact, it is outstanding. Mechanical recycling delivers the high purity levels needed. The market is eager to use it. The environmental footprint of mechanical recycling is impressive. Compared to the avoided incineration as well as virgin production, it saves about 75% of CO2 emissions."
Putting PS through its paces
Being able to work with recyclate that is safe for food contact is indeed the "holy grail", adds Herman Van Roost, General Manager, Feedstock and Mechanical Recycling at SCS.
The polystyrene mechanical recycling process was inspired by processes developed for PET. It was improved for its specific purpose to remove all dairy residues, aluminium, paper, foil, and even printing inks.
"Cleaning and challenge testing is key to the process. The properties of polystyrene, with its low diffusion characteristics similar to PET make it suitable for food contact, as the polymer matrix is closed. This means impurities do not enter into or migrate through the polymer into the food," he adds.
In cooperation with the Fraunhofer Institut für Verfahrenstechnik und Verpackung IVV, SCS performed so-called challenge tests, which confirmed the high cleaning efficiency of the mechanical recycling technology for polystyrene to remove impurities originating from waste streams.
With the aim to consistently achieve the very high purity levels of the polystyrene recyclate needed for food contact materials, the 'supercleaning' technology of machine manufacturer Gneuss was used during the mechanical recycling process.
"This technology is already in use in Japan, where 70% of polystyrene trays are actually recycled under an FDA approval. We will use our test results to apply for a food contact authorisation in the EU," adds Mr. Van Roost.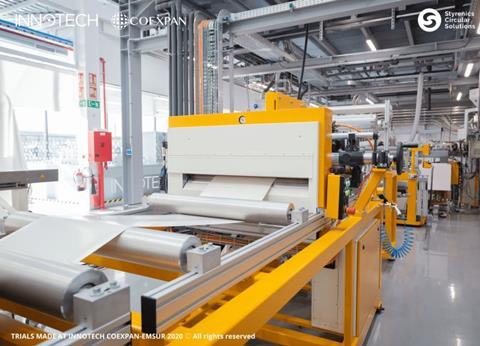 He offers more details about the tests: "The ability to handle post-consumer polystyrene waste from food contact packaging was 'stress tested' and challenged by adding impurities under worst-case assumptions. The challenge test revealed the very good cleaning efficiency of the technology used, leading to excellent purity levels of the recycled polystyrene. This result is supported by the intrinsic low diffusion properties of polystyrene."
SCS recently also performed further challenge tests with a second super-cleaning technology from NGR, an Austria-based plastic recycling machine manufacturer.
These challenge tests revealed the outstanding cleaning efficiency of the technology used, leading to first-rate purity levels of the recycled polystyrene. These results enable SCS to apply for a first opinion of the European Food Safety Authority (EFSA) on the use of recycled polystyrene as food contact material.
The proof is in the yogurt
Members of SCS delivered the proof of concept that mechanically recycled polystyrene can serve as a drop-in solution in extrusion and thermoforming facilities and form, fill and seal (FFS) production lines for yoghurt cups. Multiple variants for packaging are possible: single layer, co-extrusion of the recycled polystyrene with virgin polystyrene or use of the recyclate as middle layer between virgin polystyrene (A-B-A).
"We received great test results with SCS members COEXPAN, Intraplás and Greiner Packaging. There was no observed degradation of the polymer, purity was good, and flavour and smell of the yogurts were not affected. In addition, our recycled polystyrene behaved like virgin polystyrene," Mr. van Roost says.
Anabela Ferreira, co-owner and Executive Board Member at Intraplás, explains how recycled polystyrene has performed as true drop-in solution in their existing facilities.
"We ran tests to compare the behaviour of mechanically recycled polystyrene to virgin polystyrene, first in our industrial extrusion and thermoform lines, and then in our R&D centre in form fill and seal. The conclusion: same results, no adjustments in our equipment and same productivity of the machines.
The finished cups showed the same look, the same touch, and we got the same resistance to vertical compression, which means that our clients, when transporting the yogurt, they will not have any change in the logistic process. Also, the snapability, i.e. the breaking behaviour of a yoghurt multipack was the same." She adds, "we now have a sustainable solution that will have the same outcome for converters and brand owners alike and, very importantly, without any investments."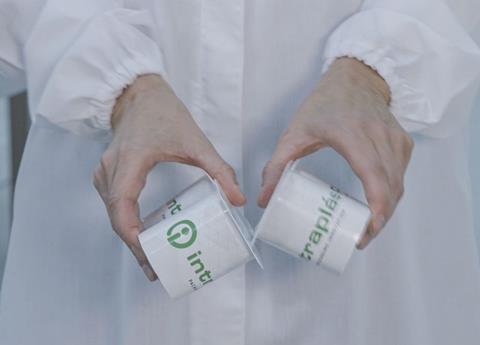 Iain Sturges, Chief Procurement Officer at COEXPAN, points out key critical areas: "With regards to quality, there is no mechanical loss. It is infinitely recyclable. And this high quality means that we actually use less material. In terms of productivity, it is probably between 20 and up to 30% higher than any alternative that we have managed. In terms of energy consumption and CO2 footprint it has become a leading option for packaging. The one fact that I am truly excited about is that polystyrene is truly circular. All polystyrene applications can be sorted and transformed back into any application, without any limitations."
Tobias Strasser, Managing Director at Greiner Packaging adds the customer perspective: "We made the same positive experiences not only within Greiner Packaging, but also at ELSA, one of our famous customers, who are a member of the Migros industry in Switzerland. The filling process of recycled polystyrene yoghurt cups at ELSA went smoothly without any changing of parameters. The recycled polystyrene cups passed all tests: from sensory test, shelf-life to logistic test. The good news is that retailers and brand owners can continue to benefit from polystyrene's advantages across the supply chain up to the end consumer."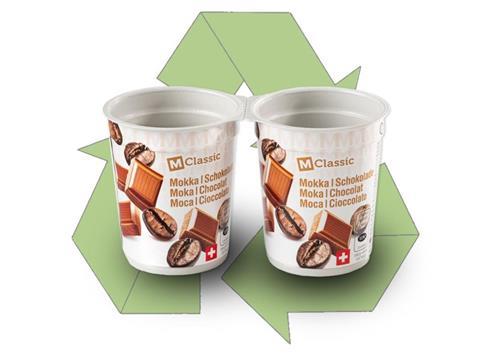 "Going forward, we will extend further the range of available technologies for super-cleaning, in order to offer investors the same range of choices as they find with PET recycling today. We are going to seek food contact authorization also for foamed PS, for which the recycling process works as well. Propelling that market forward is really what we were aiming for," Mr. Van Roost concludes.