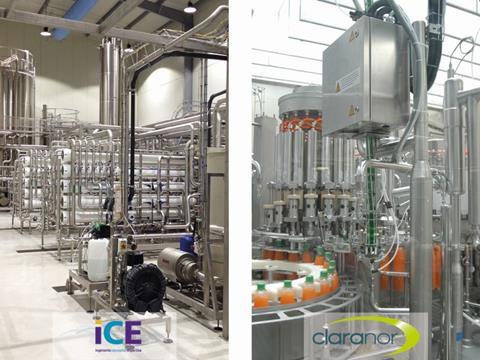 I.C.E Water Management is an expert in water management solutions for food & beverage industry, Claranor is worldwide provider of chemical free solutions for online packaging sterilization - using the pulsed light technology.
drinktec is the right exhibition to show their innovative solution on beverage quality protection: Claranor and I.C.E bring their strengths together, to offer a brand new combined solution for the control of product quality of high speed water and beverages filling lines. Their goal is to propose a protection of the water quality throughout the production process: from the spring to the package product. How can microbial contamination influence product quality?
The consumer is now attracted by less sugared, more natural, healthiest beverages. Those new more challenging to produce. Microorganisms brought by packaging (preforms, caps) into the product may affect their microbial stability, generating spoilage, in sensitive products like treated bottled water, natural fruit juices ... As soon as the water needs any demineralization or reverse osmosis treatment, its natural microbial balance is affected. Germs contained in packages do not have to compete anymore against the original flora which has been eliminated, they can grow. Hygiene on the line and in packaging is a must. How does the water quality impact the quality of your beverages? The water constitutes more than 90% of most beverages. The quality of water affects taste and smell of the product and consequently strongly impacts the final drink quality and the brand. Monitoring water quality means protecting the brand! Claranor, I.C.E Water Quality Program: a turnkey and sustainable solution to upgrade filling lines
Combining the expertise of I.C.E and Claranor, the program offers to the beverage producers a global approach of product, process and packaging hygienic quality. The program starts with a quality audit performed by I.C.E and Claranor experts with a global assessment from the spring to the bottle. I.C.E. provides turn-key projects ranging from well to filler inlet, CIP, services & audits (bacteriological safety, quality control & management, remineralization…), lab equipment.
More info: