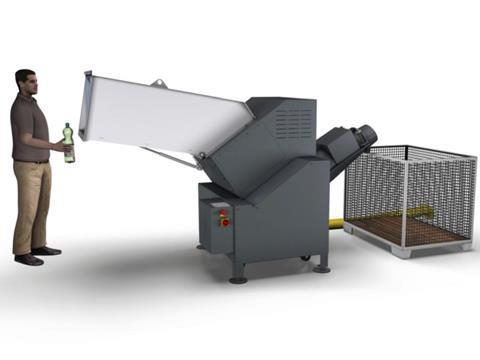 From 11 to 15 September 2017, HSM GmbH + Co. KG, a German manufacturer of baling presses, PET solutions and document shredders, will be exhibiting innovative product solutions "Made in Germany" at the drinktec trade fair (hall B4, booth 119), the world´s leading trade fair for the beverage and liquid food industry.
By means of a continuous feed, the HSM BRP 4810 briquetting press quickly and automatically compresses large amounts of PET bottles and beverage cans to up to a thirtieth of their original volume. A drive with a press force of 477 kN is achieved via a highly efficient and low-maintenance PowerPack. It is not necessary to strap the briquettes. Thanks to the multi-level compression, the maintenance-friendly machine spits out briquettes with a density of up to 400 kg/m³ with PET and up to 760 kg/m³ with aluminium cans. The robust construction made of wear-resistant steel is maintenance-friendly, since the third compression stage, the primary pressing stage, and thus the most wear-intensive part, can be completely replaced.
The HSM PET FluidEx 600 quickly and reliably empties full PET bottles, cans and Tetra Paks, which were, for example, incorrectly filled or labelled or whose shelf life has expired. Using a filter system, small plastic chips and labels are cleaned from the liquid and removed. Up to 10,000 one-litre bottles per hour can be processed. This high performance, as well as the low space requirement and possibility of direct integration into existing recycling processes, are the key advantages of the HSM PET FluidEx 600.
HSM trade fair booth at drinktec 2017: Hall B4, Booth 119
More info: