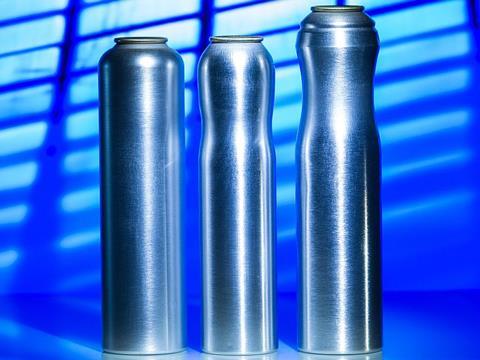 Some 8.14 billion aluminium aerosol cans were manufactured around the globe in 2018. This means that the 8-billion-can mark was exceeded for the second year in a row, and it was an improvement on 2017's record result.
Aluminium has a market share of about 50 per cent, which means every second aerosol can manufactured in the world is made from aluminium.
The member companies of AEROBAL, the International Organisation of Aluminium Aerosol Container Manufacturers, account for the lion's share of all aluminium cans produced. The organisation's 26 members alone reported total production of just over 6 billion cans in 2018. It was the first time that the AEROBAL companies have crossed the 6-billion-can threshold and represents remarkable growth of 2.2 per cent compared with the previous year's figure. The companies organised within AEROBAL thus represent about three quarters of all aluminium aerosol cans produced globally.
According to AEROBAL, almost 84 per cent of total production in 2018 went into the cosmetics sector. Deodorants and perfumes accounted for 57 per cent. Hair sprays (about 9 per cent) and hair mousse (about 6 per cent) also accounted for larger shares. Besides cosmetics, sectors of particular importance were the broad market for household goods (7 per cent) and pharmaceuticals (6 per cent).
The trend in the two most important regional markets, Europe and North America, was stable at a high level, with only minor changes. In contrast, the emerging markets in Central and South America and the Asia-Pacific region emphasised once again in 2018 their above-average potential for the future with solid single-digit growth. However, the largest growth leap, albeit from a relatively low level, was made in the Middle East, with double-digit rates of growth.
AEROBAL President Leopold Werdich is pleased with these developments and the market situation. He expects demand to return to normal in 2019: "After the many growth records of recent years, our industry will be able to take a breather this year, so that delivery times should also return to more normal levels. Increasing demand for personal care products, such as shower and shaving foams, sun sprays and dry shampoos will bolster market developments in the coming months. In addition, pharmaceutical clients are showing growing interest in aluminium aerosol cans. They are increasingly appreciating the benefits of this packaging solution. I'm thinking in particular of the can's high level of security, its simple and convenient handling and the hygienic and precise application of the active ingredients."
AEROBAL Secretary General Gregor Spengler has identified another issue that is of great importance to the sector: "Aluminium aerosol can manufacturers are currently discussing the use of recycled material in the manufacture of cans with their suppliers and customers. In this context economic, logistical, environmental and security-related issues must be considered and carefully balanced against the background of limited scrap availability. In principle, aluminium cans score points as a packaging material in terms of sustainability. As a 'permanent' material, aluminium can be recycled time and time again without any loss of quality in order to produce high-quality products for a wide range of applications. So, even ambitious sustainability goals can be achieved using aluminium packaging. It is also fitting that can manufacturers, in close cooperation with their customers, have developed innovative alloys that enable the weight of aluminium cans to be significantly reduced even further. Another good argument for the aluminium aerosol can when it comes to future-oriented and truly sustainable packaging solutions."