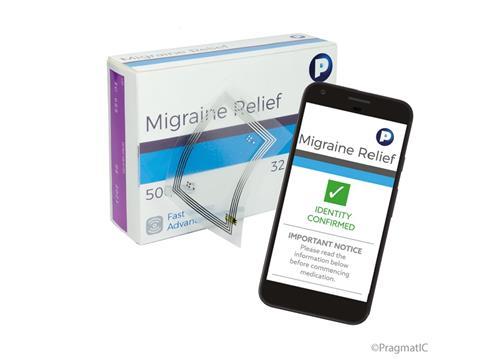 A recent partnership between Avery Dennison Smartrac, PragmatIC Semiconductor and Schreiner MediPharm has seen the three companies combine their specific areas of expertise to leverage the power of near-field communication (NFC) technology in smart packaging for healthcare. Victoria Hattersley spoke to representatives from all three to learn more about not only this partnership in particular, but also more generally about the prospects of NFC tech for the industry.
The battle between counterfeiters and the pharma industry has long been something of an arms race. The all-too-understandable concerns around counterfeiting, traceability and so on, combined with (more recently) the fallout from COVID-19 and attendant safety fears, calls for increasingly sophisticated packaging solutions.
According to the three companies I am focusing on today, this is where NFC technology can really play a significant part. First, a brief overview for those (like myself) who are not naturally technically minded: NFC allows communication between two electronic devices over a distance of 4cm or less. It can be used, among other things, for secure payments, exchanging digital information, and – of course – for packaging tags.
Avery Dennison Smartrac, PragmatIC Semiconductor and Schreiner MediPharm have worked together to embed smart NFC tags in everyday healthcare and pharma products. And it's not just for security purposes like authentication and tamper evidence: as we shall see, they believe that NFC tech can provide a wide range of benefits for consumers too, from easy re-ordering to quickly accessible guidance and social media support groups, all at the tap of an NFC-enabled smartphone.
The cost factor
But this is not the only NFC solution on the market – as we know, Avery Dennison Smartrac alone is already highly active in this field. That being the case, I was interested to know how this particular project advances the application for this technology in the packaging industry in a practical sense.
"PragmatIC has invented a way of making semiconductor chips without silicon," begins Alastair Hanlon, Chief Commercial Officer at the company. "We can attach our high-frequency chips to an antenna which Avery Dennison Smartrac then converts into smart tags, or inlays, before they finally go to Schreiner MediPharm to be incorporated in the labels. The benefits of these chips are that they are thin and flexible to incorporate in packaging and also has a significantly lower cost than traditional silicon chips."
The cost factor is particularly important when it comes to practical market application. Up to now, this kind of functionality has been restricted to high-value (or high-risk) products such as biologics, owing to the price of traditional NFC inlays and their chips. If the price is lowered, then it follows that these chips can be embedded into more 'everyday' lower value healthcare products – packaging for pills, labelling for injectables in syringes vials and so on.
"For some biologic drugs, you would easily have to pay several hundred dollars per unit," says Stefan Wiedemann, Director Strategic Marketing & Business Development at Schreiner MediPharm. "And if you think of the label this is a small fraction of the cost, so up to now these would be the kinds of products for which NFC would be justified. If, on the other hand, we talk about lower-cost products – e.g. the COVID-19 vaccine – then it's a different story. Each unit can cost less than 20 dollars so the label then becomes a more significant part of the cost structure. In that case, we need a lower-cost solution or a very strong reason to justify the extra cost."
"During 2020 we have seen increased demand for agility in the healthcare and pharma space when it comes to lower-cost tags that are also flexible enough to adhere to different substrates," adds Amir Khoshniyati, Head of NFC Business at Avery Dennison Smartrac. "This collaboration enables us to take our technologies to another level to meet this demand."
Enhancing security
NFC is being leveraged as a form of RFID labelling technology but it can also be seen as something of a 'step up' from that, as the functional possibilities are higher. This is why many see it as a key technology for the pharma industry moving forward.
The beauty of NFC, says Stefan, is the sheer availability of smartphones, which serve as the reading devices. The tags also contain a unique product code which is clearly an advantage for the entire supply chain in terms of security, authentication and traceability. Think, for example, of the COVID situation: sadly, there are already fake vaccines out there and this is obviously very dangerous indeed – both in terms of eroding trust in the vaccine programme, and what harmful substances these fakes might contain. The in-built security features offered by NFC could be a way to tackle this particular threat.
It could also be good news for brands wanting to protect their IP. "It's emerging tech that's very robust and secure," says Amir. "Another component we're adding is secure encoding functionality so we can lock the tag with the data, which becomes extremely valuable in terms of brand protection. Compared to other techs, there is nothing like it because it doesn't require line of sight. If you compare it to something traditional like a QR code there are many issues when it comes to repurposing that tag. With NFC, the experience can be custom-tailored based on the application which makes it not only seamless but endless to a certain degree."
Further opportunities
However, while the above concerns are clearly paramount at this juncture, it is not just about safety and security; NFC technology could offer the opportunity to enhance the patient experience.
"With new drug delivery systems such as injection pens or home tests," says Stefan, "patients will always have many questions about usability that affect compliance. Many companies that have e.g. temperature-sensitive drugs or medication devices that require more explanation would love to be able to supply this kind of user information in a digital way. If you could tap the package with your smartphone and get a video that tells you how to use the product it would be amazing. There is even scope for a system that allows a patient to tap when they have taken a pill to help them remember when they have taken their medication – again, supporting compliance."
From the above, it seems clear that the ability to add NFC functionality to day-to-day medicines at a lower cost would be a huge opportunity for the industry. And this is not all, I am told: there are plenty of opportunities in other fields.
"We have been talking about pharma today but PragmatIC Semiconductor is also working in other markets such as food – making sure what we eat is genuine and that we know where it came from. There are also many other possibilities. We've even seen some enquiries around using NFC to ensure PPE is legitimate. We also think there's a role for this tech in helping consumers understand how to recycle the pack when they have finished with it, so there's the environmental aspect, too."
It's certainly a disruptive technology that we'll be keeping our eyes on in the coming months. But quite apart from its industry-disrupting potential, I should also add that this project is a great example of what can be achieved through practical collaboration across the supply chain – something we hope to see more and more of in the coming years.