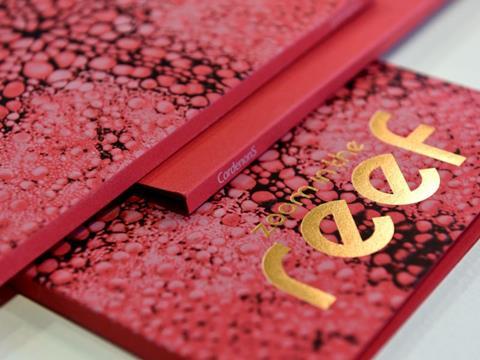 The paper experience provided by Gruppo Cordenons continues to thrill with Reef, the new fine paper from the Luxury & Touch series.
The coral reef, one of the places in the world to showcase the widest variety of shapes and colours, inspired the concept of the new entry into the Gruppo Cordenons rich paper portfolio. Reef, which debuted in Milan at the Packaging Première Show (16th/18th May 2017), evokes adventurous journeys and diving into the depths of the tropical sea by combining the essence of natural elements with the fascination of discovery.
Created by the Gruppo Cordenons R&D Department, which has worked to achieve the utmost appeal and versatility, Reef gives the feeling of precious treasures of the deep: its texture evokes fine sands, live rock, corals and colourful fish scales. It is ideal for graphic design and packaging that requires style and the look and feel of an exclusive product.
"In the media mix, paper and especially fine paper is very effective thanks to the seductive power that it can deliver to projects. – says Katia Tedeschi, Marketing Director Gruppo Cordenons – That's a plus that allows luxury communication and packaging to offer an unforgettable multisensory experience. One of the strengths of Reef is the tactile aspect which defines its unique personality. We are proud of its success: our new fine paper has been greatly appreciated by the Packaging Première audience".
Suitable for any kind of printing, special effects and sophisticated finishing, Reef has played a key role in the luxury paper jet set since its launch: the cover of the official Packaging Première catalogue was made with Reef Blue in 120gsm, giving it a touch of class.
Reef is available in four colours, inspired by the atmosphere of exotic sea life: White, like an unspoiled beach; Red, like the intense emotion of corals; Blue, of the deep sea, and Black, as a dive into the unexplored abyss. The range includes two versions Light, 120 gsm and Heavy, 330 gsm. Reef is part of the Cordenons Luxury and Touch paper collection together with Plike, with a unique soft touch, and Slide with fascinating appeal.
More info: