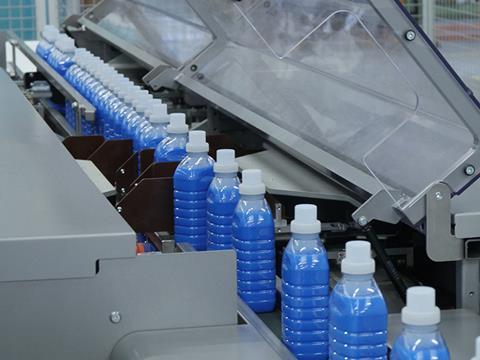 Gebo Cermex was one of several leading technologists competing to share their visions of the smart production line of the future. However, their latest advanced performance systems and innovative packaging line solutions launched at interpack 2017 were one of the highlights of the show, writes Tim Sykes.
At its booth Gebo Cermex, part of the Sidel group, demonstrated a broad portfolio for the beverage and food, home and personal care (FHPC) customers based on its Agility 4.0™ concept. The focus of the expo was smart equipment, revolving around a comprehensive packing solution.
Marc Aury, President & Managing Director of Gebo Cermex, explained: "As a key player in the Factory of the Future movement with our Agility 4.0™ program, at interpack 2017 we are excited to give visitors a preview of our vision of the 'Smart Machine', with a comprehensive robotic/cobotic case packing solution embedding advanced and connected systems." A 'Smart Machine' is so much more than a piece of machinery. Featuring the latest motion technology, robotics and cobotics, auto adjustment and auto feeding, as well as being a connected machine, it establishes itself as a forward looking comprehensive solution. Aury continues: "It is no longer a case packer simply putting products in a case. It's a 360° integrated approach using the latest technologies to deliver all functionalities."
The 'smart packing machine' exhibit featured four main innovative modules.
CareSelect - new shaped bottle infeed system to preserve product integrity
interpack saw the global launch of CareSelect™ - Gebo Cermex's patented universal and modular shaped-bottle infeed and collating system for robotic or traditional case packers. Utilising Rockwell Automation's iTRAK® technology, it scooped first place in the 'Modular Machines' category of the 'Best Future Machine Award' sponsored by Rockwell Automation on the first night of interpack. Capable of achieving speeds of up to 400 products per minute depending on package size, shape and weight, the CareSelect system surpasses traditional 'endless screw' collation systems in terms of bottle integrity and protection. It delivers shaped bottles to the packing machine with precision and care in the correct orientation and pitch, turning each bottle 90°. Even unstable shaped products are smoothly and individually handled via independent movers. To eliminate contact between products, flow is managed without accumulation at the infeed and 'friction time' between the bottle and the system - when the bottles come into contact with machine parts - is dramatically reduced (by at least 20 times) compared to an endless screw infeed system.
In response to the demand of customers for flexibility and reduced downtime when managing production of different batches, CareSelect™ offers fully automatic changeovers in less than one minute, with no need for mechanical adjustments. Additionally, adaptation of movers and product guides is carried out automatically, without involving any manual intervention. Unlike the previous screw infeed which required the manipulation of heavy parts, CareSelect™ needs no tools or parts to implement the changes. As a result, storage space for cranes and other kinds of equipment is also saved.
Fenceless cobotic FlexiLoad for automatic magazine loading
FlexiLoad™ is a reliable robotic solution for magazine loading, suitable for any case packing system regardless of type and speed. This eliminates the need for time-consuming, manual corrugated board magazine feeding and, importantly, the potential for operators' musculoskeletal disorders (MSDs). Exhibited for the very first time on this year's booth will be the latest version, enabling a completely fenceless unit as it embeds the world's strongest collaborative robot, the Fanuc CR35 with a 35 kg payload. This represents a further testament to the leading role played by Gebo Cermex with the implementation of cobots in packaging applications, helping make previous manual ancillary tasks fully automatic while enabling complete interactive human/machine relationships. Comprising also a universal gripping tooling and PC based software, this latest version delivers a compact solution fitting in the same space as when the task is carried out manually. Yet, having no fence, the system ensures easy circulation around the magazine loading equipment and leaves operators free to carry out more skilled work.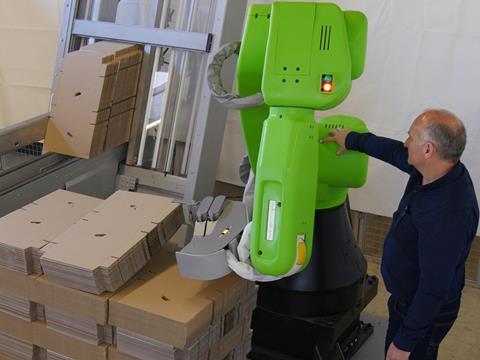 WB46 Wrap-Around packing technology
With a large installed base worldwide, the WB46 offers excellent performance in terms of flexibility, hygiene and ergonomics. This is due mainly to a new automation platform, thermoplastic polyurethane timing belts and quick-release systems for format changeovers.
Exclusively for interpack, Gebo Cermex revealed a new on-the-fly robotic product loading station, which reduces the overall footprint of the machine by eliminating the need for a pre-collating system. This latest version of the WB46 will feature the company's brand-new, user-friendly human machine interface (HMI), which is based on an intuitive, tablet-approach navigation and offers rich media tools for preventive maintenance procedures. On the booth visitors were offered a hands-on experience of a format changeover on the WB46, via virtual reality, demonstrating a new approach to operators' training.
State-of-the-art digital connectivity and simulation
Also available as part of the smart packing solution, was the company's Equipment Smart Monitoring (ESM) system which connects to the machine in order to read, transmit and organize performance data into a coherent dashboard. This system helps customers maximize the efficiency of component machines within their packaging lines (OEE): by operating at individual machine level and collecting a continuous stream of data via a connected measuring device, ESM gathers and analyses data to generate a number of key indicators. Based on these, engineers at Gebo Cermex are able to come up with recommendations tailored to clients' exact requirements, to maintain and improve the efficiency of their installed base.
Marc Aury concluded: "With Agility 4.0™ Gebo Cermex is proposing a unique integration business model, offering enhanced performance, cost-effectiveness, high productivity and greater agility for today and tomorrow. This programme brings Smart Factories to life in order to create a world of greater choice and unique consumer experience driven by packaging mass customization and product diversity. At Interpack, visitors to our booth will see an end-to-end approach on an intelligent, efficient, integrated packing solution, giving its full potential at all levels."