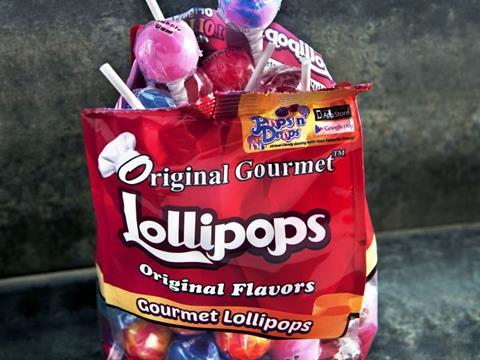 The machines presented by the international technology group GEA at ProSweets in Cologne (Hall 10.1, Stand G-07) are characterized by very high production speeds.
The GEA Aquarius FlexFormer Extra High Capacity (XHC) is the fastest lollipop former in its class, while the GEA SmartPacker TwinTube C breaks records for confectionery bagging. Additionally automation and excellent operational uptime ensure that customers benefit from reliable performance. Individual lollipop coating is a trend that GEA also pays attention as well with its Aquarius CoatingLine, the world's only fully automated line, which forms, cools, coats and wraps lollipops.
Only one machine instead of four
By achieving up to 500 pillow bags per minute, the GEA SmartPacker TwinTube C is the fastest machine of its type for confectionery. It handles products smoothly, so it is excellent for fragile products. The intelligent product-in-seal detection system that stops products from being stuck between the sealing jaws is a huge benefit with, for example, gummy candy. Being able to produce smaller 'snacking packs' at such a high speed, SmartPacker TwinTube C allows confectionery brands to respond quickly to the market trend that consumers are choosing increasingly smaller snack sizes to consume calories more consciously. The machine also performs reliably with long narrow bags, popular for party mixes. This is a size range where most vertical form fill seal (VFFS) equipment have difficulties with. Compared to running a conventional line at up to 120 bags per minute, a single SmartPacker TwinTube C can replace four machines. The potential savings from a lower initial investment, lower energy consumption and lower operator and maintenance requirements are considerable. In addition, the savings in factory floor space also leaves room for other equipment.
Individually adjustable bag forming set reduces operating costs
To lower customer operational costs the company developed a special bag forming set made of high tech composites – the GEA Shoulder. Part of GEA service offer, this individually and by hand made set for SmartPackers bring out 10 times longer production life for the vertical sealer. The high tech material ensures lower wear rates as compared to stainless steel.
The world's fastest lollipop forming machine
The latest execution of the GEA Aquarius FlexFormer lollipop forming machine is the Extra High Capacity (XHC) version. Still a flexible machine, it produces ball lollipops with diameters from 20 to 35 mm. It can produce flavorful lollipops with fillings of gum, chewy candy powders or pastes. The speed is from 1,900 lollipops per minute to 2,770 lollipops per minute depending on the diameter of the lollipop.
Easy change over with turnable Stickhopper
But speed and flexibility are not the only areas where the FlexFormer XHC adds value as it is also highly efficient. A turnable Stickhopper facilitates the easy change-over of the forming set and ensures a smooth flow within five to ten minutes. The turnable variant allows easier access to sticks, the stickhopper and forming set.
Automatic lubrication system causes less wear
To further ensure efficient and continuous operation the automatic lubrication system ensures parts are lubricated timely to ensure less wear via the PLC control. The operational costs have been brought down thanks to the feature Clean In Place (CIP) system, after each production run, cleaning only takes 20 to 30 minutes which reduces downtime and labor costs. An extensive machine protection system ensures that there will be no machine damage of the forming set and parts during normal production runs.
Protection for the machine
In order to prevent possible damages during sudden stops at production to the machine, the FlexFormer XHC also has an automatic run empty machine feature. When the machine is stopped, the sugar rope will be cut and the machine will be automatically emptied. The machine can also be disconnected from peripheral equipment, such as for example the metal detection unit. The latest safety feature includes continuous monitoring of the temperature in the forming set, the monitoring of the motor consumption, as well as monitoring of the systems pressure. Whenever the measured temperatures get too high or too low, the machine will automatically stop to prevent damage.
Forming set brings diversity into the market
The now available lollipop forming set is a service tool for the FlexFormer and FlatFormWrap machine, and is essential for the forming of the desired shape of lollipops. The set gives customers the possibility to form different shapes and sizes lollipops in accordance to their wishes and market needs. The possibilities are numerous, starting from a standard ball or flat lollipop shape, up to fantasy 3D lollipop shapes. The lollipop forming set is designed and produced in a durable way and has a lifespan of up to 5 years, depending on production circumstances. GEA designers assist customer to create unique 3D lollipop shapes and provide them with a 3D printed mock-up to enable an easy choice for the right Lollipop Forming Set. Thanks to the available easy change set, the switch from one forming set to another can be done within one hour. The polished forming set ensures less cleaning cycles, less water usage when running Clean In Place (CIP) and longer production runs per day depending on production circumstances.
Extraordinary lollipop coating
Another way to distinguish lollipops is by adding taste, color or texture with powder coatings. Visitors at the exhibition stand can sample the sour and date powder coated lollipops GEA Aquarius CoatingLine produces, and draw inspiration for their next new products.
More info: