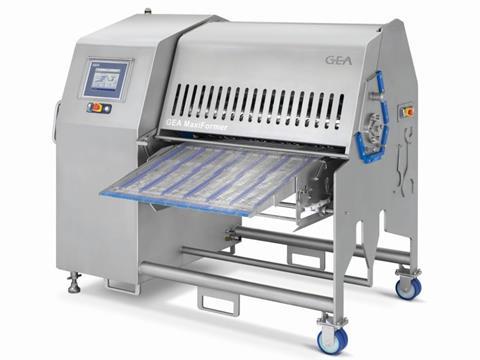 GEA S-Tec spiral freezer and chiller represents the ultimate in hygiene standards with fully welded food zone structure assembly, open profiles, fully welded modular floor configuration option and high efficient Cleaning-In-Place options. Capable of handling capacities up to seven tons per hour, the GEA S-Tec spiral freezer is designed by expert engineers to exact specifications based on the product characteristics, capacities, facility space and line layout. High effective full height horizontal airflow and exact air temperature control ensure the best freezing and chilling performance and product quality. The machine can handle single-shift to 14-day operations without interruption to defrost, based on the evaporator configuration selected for customers' needs – with GEA Sequential Defrost (SD) or Snow Removal System (SRS). Combined with GEA refrigeration systems, the freezers provide the most performant and economic solution for food application. CALLIFREEZE system, GEA revolutionary freezing process control is now measuring continuously the product level of frozenness at freezer outfeed and adjusts freezing time, air temperature and fan speed to achieve the exact freezing quality with minimum energy consumption.
CombiPlus: Great efficiency and highest flexibility for pasta filata cheese producers
GEA's latest development in continuous stretching machines is the ideal solution for producers of pasta filata cheese that require the highest flexibility in the production process, and an excellent yield, while keeping maintenance costs at a modest level. With a capacity from 1,000 to more than 6,000 kg/h, Combi Plus is suitable for producing many different types of pasta filata cheese, such as pizza-cheese or scamorza, starting from milk, commercial curds or mixtures of both. Double feeding of the heating fluid – steam and/or water – allows the Combi Plus to work in the traditional way with water, but also with water and steam or steam only. The continuous stretching unit, with rotary paddles of various dimensions, provides high versatility and flexibility for the production processes, while increasing the yield, lowering operating costs and reducing energy and water consumption.
Hygienic pump series extended
In 2018, GEA's pump centre of excellence in Bodenheim will be sending the completely newly developed high-pressure pump for use in dairies to Anuga FoodTec in Cologne: The GEA Hilge HYGIA H is designed for system pressures up to 64 bar for filtration processes in the dairy industry, where it can handle liquids as well as homogeneous air or gas-containing media. It is available in two sizes, of which the larger variant – powered by a 45-kilowatt motor – delivers a volume flow of up to 200 cubic metres with a maximum delivery head of 70 metres.
The new high-pressure pump from the H-series is based on the GEA Hilge HYGIA hygienic pump series, which, due to its high surface quality and adaptability, is suitable for a large number of media and applications. Thanks to the new concept of modular motor connection, it can be equipped with a wide variety of motors, thereby meeting international standards and specifications. Like the HYGIA K and HYGIA Adapta series, the GEA Hilge HYGIA H is 3A-certified for the US market. This is also where GEA is planning a large-scale market launch for its GEA Hilge pump range in 2018.
GEA service products live on stage
During the GEA SAFEXPERT™ program, the equipment will be screened systematically regarding biofilms and bacteriological species will be identified. Any biofilms will be removed to enhance the safety and quality of the products. Due to the consistent nominal production capacity, customers will have a high return on investment.
Another highlighted service tool is the new GEA IO control generation, which was unified for its entire range of separators and decanters. The control was developed to focus specifically on users' needs and to keep the control of the machine as simple and user-friendly as possible. Displays have been consistently streamlined, the symbols are self-explanatory, and the color code is based on international standards, either traffic signal colors for statuses or the standard colors used in plant design for identifying pipework. IO not only controls the process and displays the information; it also interprets the data so that users can see how efficiently the centrifuge is running in relation to energy consumption, performance or separation efficiency.
In the run-up to and during the fair, there is an extensive supporting program with numerous conferences on various current topics in the food processing industry. GEA engineers and managers participate in lectures during the conferences and are speakers at panel discussions. The experts present possible solutions to the various trend topics and provide suggestions for a sustainable and economic development in the manufacturing process.
GEA at the Anuga FoodTec: Hall 10.2 Stand A-090-C-119
More info: