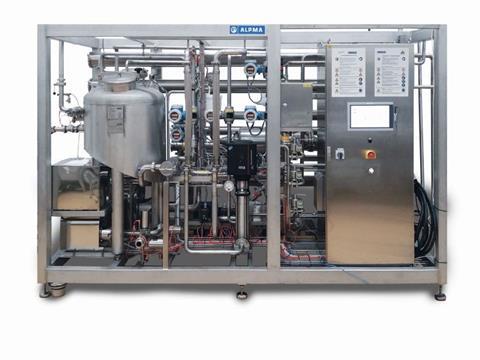 From raw milk to ready-to-eat cheese: At this year's Anuga FoodTec, ALPMA GmbH will be presenting its comprehensive portfolio of solutions for the fully automated production, processing and packaging of cheese specialities.
At stand E090/F109 in Hall 10.2, the focus will be not only on the CUT 32 portion cutting machine, but also on other machines for the further processing of cheese. And the company's trade fair presentation will be rounded off by the FORMATIC semihard cheese portioner and its multi-function test plant for membrane filtration.
For Upper Bavarian company ALPMA, an appearance at the Anuga FoodTec in Cologne is something of a home match: for more than 30 years now, in the Deutzer Messehallen, the global market leader for cheese-making technology has presented the latest developments and technologies which shape the future of the industry. "As market and technology leaders, we place a strong focus on research and development," says Gisbert Strohn, Managing Director of ALPMA. "This enables us to generate innovations which again and again set trends within the industry. This is essential for us, and above all, for our customers: the market for dairy products is evolving rapidly. It is therefore increasingly important for dairy companies to quickly develop high-quality products in line with current market trends. For this reason, we will be presenting a test plant for membrane filtration at the Anuga FoodTec. The system gives customers a sound basis for future decisions in this key sector."
The multi-function test plant allows the small-scale testing of complex technological filtration processes such as ultrafiltration and nanofiltration or the reverse osmosis of whole and skimmed milk, the concentration of whey and the clarification of fruit juices. Spiral-wound membranes of up to 8 inches can be implemented by using adjusting pieces. Another, equally important, feature: the test plant is designed for both continuous and batch operation, and a PLC logs measured values and process data.
Cheese, salted to perfection…
ALPMA will also be presenting a new, improved version of its MAS 600 dry salting plant to the specialist audience in Cologne. Dry salting plants offer an alternative to traditional brine baths in which cheese is immersed to acquire added flavour. They require less space and can be integrated in fully automated production lines thanks to conveyor belts and state-of-the-art transport technology. Using dry salt instead of brine, they comply easily with the highest hygiene standards. Moreover, the MAS 600 is particularly suitable for flexible production quantities of 600 to 800 racks an hour. And ALPMA dry salting plants can also be used to process other foods, for example fish.
…and impeccably shaped
The CUT 32, a fully automated portion cutting machine which ALPMA will also be presenting at the Anuga FoodTec, offers precisely cut cheese portions, accurate to the gram. It combines the very latest measuring technology with high-precision, hygienic mechanical engineering for extremely exact cutting and portioning right down to the last gram, and it also makes light work of challenging tasks, for example the fixed-weight portioning of complex cheeses such as Emmental. The DS 32 density scanner can demonstrate its strengths here. It scans the cheese bars to be portioned in minute grid dimensions. Based on these data, the CUT 32 calculates the correct portion density and cuts the bar into portions of a preselected optimum size. This allows cheese producers to improve their yield by just under 20 percent to almost 100 percent. This reduces give-away virtually to zero – a decisive advantage in view of rising raw material prices.
The semihard cheese portioner FORMATIC, which will also be on show in Cologne, promises perfectly shaped cheese, too. Versatile and space-saving, it allows the continuous filling of semihard cheese curd in whey directly into the cheese mould. Reliably and fully automatically, the FORMATIC produces cheese of widely ranging types and in widely ranging formats – Euroblocks, round cheese formats or large block cheeses. ALPMA can also supply the matching microperforated moulds in premium quality. The setup is flexible, too: the filling plates can be exchanged variably.
A round-the-world journey with cheese specialities
Because the ultimate goal of all these cutting-edge technologies is enjoyment, the experts from Rott am Inn will be inviting visitors to the Anuga FoodTec to sample cheeses which take them on a trip around the globe, ranging from traditionally produced Camembert from the neighbouring country of France to culinary delights from farther afield, such as Indian paneer, Halloumi from Cyprus and Greek feta. These specialities are largely produced and served in the traditional manner.
At the adjacent stand, ALPMA subsidiary Servi Doryl from France will be presenting its portfolio of cheese moulds, which are ideally suited for use in ALPMA machines.
More info: