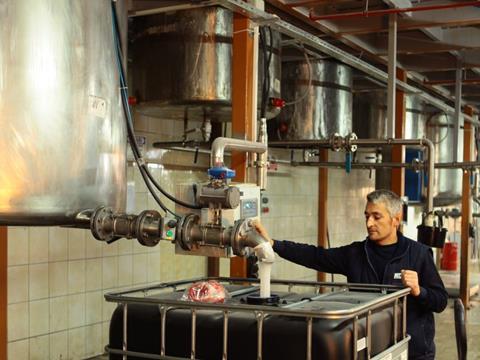 Frimpeks® UK are putting the finishing touches to their plans for the biggest trade event of the year. Labelexpo 2017 promises to be a landmark show in the industry.
As the great and the good from throughout Europe will descend on Brussels to view the latest trends and innovations in a region that "accounts for over a third of the world's label consumption".
To this end Frimpeks® UK will be promoting their recent investment in a bespoke ink mixing and distribution service. The 35,000 sq.ft. site in Market Harborough is home to the new North European ink mixing service which combines naturally with the bespoke slitting operation for label stock customers. Managing Director Dave Casey comments. "A little-known fact about Frimpeks® is our strong pedigree in ink formulation and supply which dates back to 1990." He continues. "We are looking forward to the LabelExpo event and showcasing our "one stop shop" capabilities encompassing self-adhesive laminates, inks and varnishes/coatings which can be used on a broad spectrum of substrates, from standard to specialty."
Frimpeks® are a Globally based company and boast a large infrastructure which includes purpose-built R&D laboratories in Istanbul, Turkey used to develop new products including emerging technologies such as LED curing. Frimpeks® also offer a Low Migration UV Ink & Varnish and supply their inks for use in a variety of systems including; litho, screen, letterpress, flexo and digital print.
Their key message for forthcoming trade show is their ability to; "Significantly improve print quality whilst reducing make-ready times and operational costs." A bold statement that Frimpeks® CEO Emre Sayer follows up by commenting. "Our customers are continually striving to meet Brand owners demands whilst managing performance and quality standards. Our knowledge of flexography and supporting ink systems spans decades. Our ethos to work in partnership with converters is key to our success. Our aim is to supply a comprehensive product portfolio to the self-adhesive label industry that includes substrates, inks and varnishes." Total global investment to date in the Frimpeks® Ink Division is €8m and investment plans to 2020 include further spend on the ink division of approximately €2m.
This has enabled several developments to come to life. Firstly at the Instanbul plant, a new production facility has been installed with 4 Buhler lines for the efficient production of process colours together with additional lines for whites and special colours. A new laboratory has harnessed the NPD capability and delivered a full UV ink product range for application in both Flexographic and Letterpress print techniques. Frimpeks® inks have been specifically formulated to print shrink sleeves, PP and PS yogurt cups. The company claims their ink series perform consistently in terms of colour strength and rheology behaviour. In the pipeline, we understand Frimpeks® are developing a low energy curing Flexo series using LED technology with a low migration alternative.
Frimpeks® supply UV inks via the new ink centre in Market Harborough to countries in North and Western Europe. At the show they intend to provide direct access to the team of technical support staff who have valuable experience in the installation and support of the Frimpeks® ink system, providing ongoing training and support at local level. This year's show promises to "you'll discover the most advanced label and package printing technology ever assembled." 600 exhibitors housed in 9 halls will be vying for the attention of over 35,000 delegates. It promises to be a Label Industry Extravaganza.
Visit Frimpeks® at Labelexpo on Stand: 9A70 from 25th to 28th September 2017
More info: