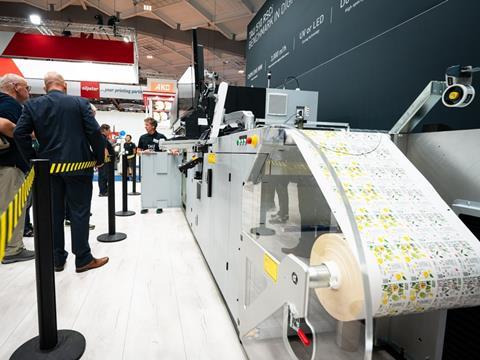 Durst Group has revealed a computer vision and artificial intelligence solution aspiring to automate print quality, improve efficiency, and reduce both set-up time and waste in digital print.
Unveiled at Labelexpo Europe 2023, the technology features a scanner system, workstation, and touch screen monitor. It amends for print mistakes like missing nozzles inline and in real time, with in-built AI systems automatically detecting and localising problems – e.g., a malfunctioning printhead nozzle – without reducing speed.
In the event of malfunction, neighbouring nozzles are designed to produce larger drops and ensure that print quality does not decline. No set-up processes or test prints are required, Durst explains.
The technology aims to assist operators and achieve a more competitive total cost of ownership (TCO) for the Tau RSC platform printers.
"The Durst Hawk Eye is a game-changer for the digital printing industry," said Martin Leitner, product manager of Durst Group. "This technology will greatly increase productivity and efficiency, but, more importantly, it will reduce waste and the carbon footprint of our customers.
"We are thrilled to introduce this innovative solution to the market and provide exclusive information during Labelexpo."
Also revealed at Labelexpo were Durst's new Tau RSC LED inks, an expansion of its existing Tau RSC ink portfolio. Tau RSC LED is available in CMYK with optional shades of orange, violet, green, and white; these are said to create a large colour space and enable the exact reproduction of customers' brand colours.
The new line claims to combine high printing quality and performance with the company's pursuit of a more sustainable printing industry. It aspires to increase the Tau RSC presses' overall TCO by 'significantly' reducing energy consumption – alongside consumable cost and maintenance time – and eliminating frequent changes for the UV bulb and reflector.
Alongside this development are the Tau RSC UV Ink 3 high-speed UV inks, which are formulated without the need for TPO photoinitiator.
Durst's software label ecosystem was also on display, constituting Durst Workflow Label, prepress and production software, and the analytics and monitoring tool Durst Analytics. All these solutions are modular and the company explains that they can be managed via a web-based interface.
A browser-based VDP editor is also available in the workflow, designed to create and manage variable data.
Durst ran a live demonstration of the Tau 510 TSCi single pass press and its new automation features – incorporating a double white feature to print high-opacity white ink at 80m/min.
Domino Printing Sciences also attended Labelexpo and exhibited its N610i-R digital retrofit module, set to enhance existing hybrid printing flexographic lines with digital printing technology.
Meanwhile, ANYTRON debuted ANY-PRESS, a compact, all-in-one label and packaging press for continuous label printing and laminating functions.
If you liked this article, you might also enjoy:
The Lidl approach to packaging sustainability
How did Brazil achieve its 100% aluminium can recycling rate – and can it be replicated in the EU?
Experts have their say on the EU's Packaging and Packaging Waste Directive revisions
A deep dive into the most important packaging sustainability trends and solutions