Sustainability, digitalisation and automation were major topics of conversation at this year's edition of Labelexpo Europe in Brussels in September. Frances Butler and Elisabeth Skoda take a look back at just some of the latest developments on show at this year's event.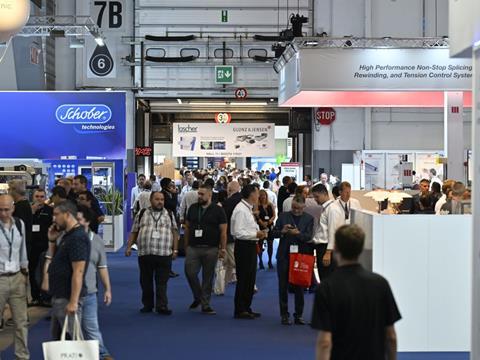 In addition to attending press conferences and having conversations at different stands, we also filmed several videos. Find out more here.
FINAT
FINAT, the European label association, presented a new initiative designed to give guidance to the label industry on the growing market demand for Product Carbon Footprint data. The initiative is part of FINAT's 'Four Pillar' programme designed to increase the association's agility in community networking, knowledge, collaboration and industry advocacy. As a first step, FINAT launched a brochure and animated video to explain the basics of PCF and LCA, the distinction between the two and the fact that this needs an entire value chain approach.
The next steps for 2023/24 include a survey of existing calculation methods currently being used in the labels and packaging production chain and a guidance document towards harmonising the PCF/LCA approach along the label value chain.
HEIDELBERG/Gallus
HEIDELBERG and Gallus underlined their commitment to 'smart, connected packaging' with three new products and displayed ways to address the shortage of skilled labour, boost productivity and reduce waste.
Labelexpo marked the European trade show debut of the new Gallus One digital label press. Launched in August 2022, the Gallus One was specifically designed to remove the total cost of ownership (TCO) barrier for the adoption of reel-to-reel digital labels with a high level of automation and cloud-based technologies. Gallus recently launched the new Gallus One with a converting option. This new solution features a digital printer with an inline flexo station, a semi-rotary die cutter that can reportedly change a job within one minute and process up to 70 m per minute, and vision inspection systems.
The trade show also saw Gallus highlight the newly available digital printing unit (DPU) for the Gallus ECS 340 flexo press. Launched this summer as part of the inaugural Gallus Experience Days, the DPU transforms a traditional Gallus ECS 340 into a Gallus Labelfire 340 hybrid press.
Also on show was HEIDELBERG's new Customer Portal (HCP), which automates almost every customer touchpoint. In an "industry first", future iterations of the solution will also provide predictive capabilities utilizing artificial intelligence (AI) to provide recommendations to drive productivity, reduce maintenance, and boost profitability.
SCREEN and Nilpeter
SCREEN and Nilpeter introduced an in-line solution to meet the increasing demand for integrated digital printing and embellishment.
The two companies partnered up with the aim to meet the requirements of the label and packaging industry with stable and high-quality combination printing.
The new digital integrated solution combines SCREENS's new Truepress LABEL 350UV SAI technology with Nilpeter's FA-Line flexo platform. The Truepress LABEL 350UV SAI S unit reportedly offers up to seven digital colours, enabling expanded gamut along with high-performance white printing. Integrated with Nilpeter's platform-based FA-Line and embellishment solutions, the in-line solution facilitates efficient production of value-added labels.
SCREEN also announced the prototype development of an in-line inkjet digital primer for its Truepress LABEL 350UV SAI, which addresses a major challenge in UV inkjet digital printing: poor ink adhesion on certain substrates. Traditionally, the issue of poor ink adhesion has been resolved through offline pre-priming of the substrate before printing labels. However, SCREEN's solution is described as eliminating this extra step by incorporating an in-line digital primer directly inside its Truepress LABEL 350UV SAI digital printing press.
Finally, SCREEN showcased its Truepress PAC 520P inkjet digital printing press for paper packaging at Labelexpo, catering for the rapidly growing trend of the reduction of plastic material used in packaging and its paper-based equivalent replacement.
HP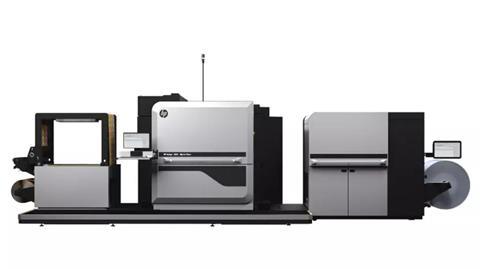 HP introduced for the first time in Europe the "industry-altering" LEPx-based HP Indigo V12 and HP Indigo 200K digital presses, which allow converters to shift the "great majority" of their label jobs to the HP Indigo 6K, HP Indigo V12, or HP Indigo 200K digital presses efficiently.
The HP Indigo V12 digital press is reportedly successfully completing at beta sites around the world, including All4Label, Eshuis, and Brook+Whittle. It reaches "unprecedented productivity" with HP Indigo print quality. ABG's nonstop winding solution can be added - specifically developed to run with the HP Indigo V12 digital press.
Completing the portfolio at Labelexpo was the HP Indigo 6K digital press. At the event, the digital press demonstrated E2E complete order-to-label automation with the Web2Pack e-commerce solutions for small brands, combining the ABG Digicon Series 3 - a fully digital line with no setup; the Storefront solution from Infigo; and digital embellishment and laser die-cutting finishing from ABG. PrintOS Spot Master is now available on the HP Indigo 6K and 200K digital presses, which the company says enables converters to reach spot colours "in minutes", to keep them consistent throughout the run, and to share the results with their brands.
Furthermore, the 200K digital press, a mid-web solution for flexible packaging print is now commercially available, after completing its beta phase. It drives on-demand delivery with no minimum orders, and enables variable designs, and minimal waste processes.
Avery Dennison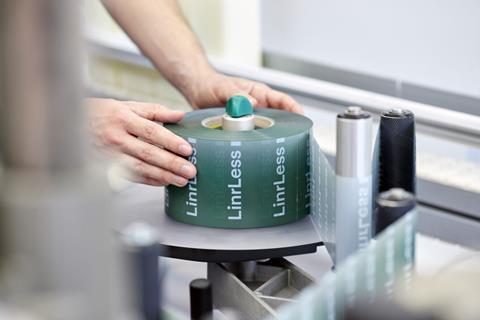 Avery Dennison launched its AD LinrSave™ and AD LinrConvert™ at Labelexpo, described by the company as the first generation of decorative linerless solutions enabled by patented micro-perforation technology. These will "greatly reduce label waste, decrease CO2 and water footprint whilst ensuring the functionality and shelf appeal of pressure-sensitive labels".
These developments mark the next stage of the Avery Dennison journey towards a linerless future and follow the launch in April of AD XeroLinr DT™, a linerless alternative for variable information (VI) labels — especially relevant for today's booming logistics and e-commerce industries. Using the Carbon Trust Tool to measure environmental impact, this range has reportedly resulted in a reduction of 30% in CO2 and 40% in water.
Avery Dennison also showcased the latest examples of 'connected' packaging with a series of labelled prototypes featuring RFID and NFC technology. NFC enables consumers to touch labels with their smartphones to find out more about a product and one such demo features the story of a wine – from vineyard to bottle. Another shows the story of the coffee available to guests, with end-to-end transparency regarding its journey from farm to cup visualized via atma.io, the connected product cloud platform enables organizations to track and identify individual products accurately throughout the supply chain and demonstrate their sustainable origins and journey.
BOBST
BOBST has unveiled new product innovations which it says simplify label production.
In line with its industry vision based on the four key pillars – connectivity, digitalization, automation, and sustainability – BOBST says it is addressing the need for precision at full production speed with solutions that include a digital label press and an inkjet module for rapid, high-opacity white printing. The company also highlighted the importance of industry collaborations as a key driver for growth.
Along with highlighting BOBST oneECG process for extended colour gamut printing which leads to savings in electricity, waste, and ink usage, BOBST also has introduced a new end-to-end process for linerless applications developed in partnership with Avery Dennison using its ADLinrSave™ technology.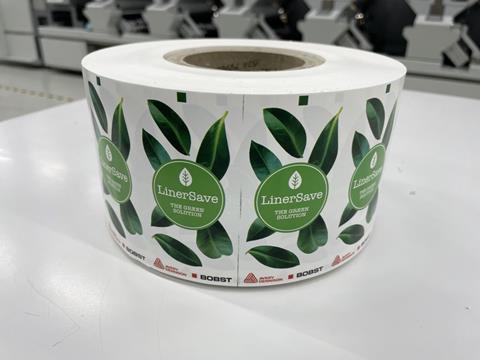 The company also announced that it is about to launch a "next generation" of digital UV inks with commercial availability by early 2024. BOBST will provide the inks by eliminating hazardous materials, among them TPO photoinitiators.
BOBST furthermore introduced the DIGITAL EXPERT 340, a roll-to-roll label press built on the same platform as the DIGITAL MASTER series. Operating at 65 m/min – with the ability to upgrade to 100 m/min – the press offers the choice to incorporate a flexo unit. As the next evolution of the company's pure digital machines, the DIGITAL EXPERT 340 features BOBST's 1200x1200 dpi inkjet cluster technology for "enhanced performance and the highest versatility".
Finally, BOBST unveiled a new module enabling high-speed, high-opacity white printing, leveraging BOBST Inkjet Technology. Reaching up to 72% opacity at 100 m/min and 80% at 80 m/min, further expanding the printing capabilities of the DIGITAL MASTER series.
ACTEGA
ACTEGA, manufacturer of specialty coatings, inks, adhesives, sealants and compounds for the print and packaging industry, confirmed at Labelexpo that it's novel metallization process ECOLEAF now runs at 70m/min on digital inkjet lines and 80m/min on flexo lines. Medium to high-run jobs across all types of existing production lines can now reportedly integrate ECOLEAF and benefit from improved sustainability whilst delivering the high gloss and quality usually achieved with traditional foil processes.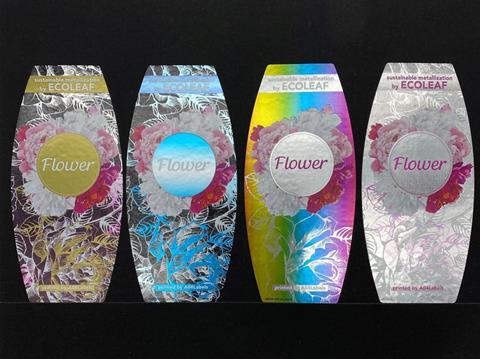 Harald Jasper, Managing Director of ACTEGA Metal Print explains, "It is widely known that traditional foil processes used to upscale labels and packaging products are expensive, complex to integrate into the production process and extremely wasteful. Our goal for ECOLEAF is to enable sustainable, on-demand metallization of labels and packaging - applying high-quality, plastic-free metallic decoration only when and where you want it. Today, we have proven that this exciting transformation of this industry is well underway. With higher speeds achievable and new markets seeing the potential for improved decoration processes, we are seeing more and more forward-thinking converters, OEMs and brands wanting to make the switch to ECOLEAF."
Konica Minolta
Business technology company Konica Minolta unveiled new technology and products focusing on complete workflows within the packaging and label markets, introduced by Toshitaka Uemura, director of global IP strategy and business development. He emphasised the company's aim to minimise its negative impact on the environment whilst improving the printing process.
Head of IP business development Sacha-Vittorio Paolucci then outlined the solutions on display (in collaboration with partners including MGI Digital Technology) such as the AccurioLabel 400 single-pass digital press. Targeting the high-volume digital print markets, it apparently prints at speeds of up to 39.9 metres per minute. It also has an automatic quality adjustment tool, gold foiling, silver foiling, 2D, 3D and invisible ink elements available.
When asked whether he saw label converters diversifying into digital cartons, corrugated and wide format, Paolucci replied that the company is aiming more towards B2B and small enterprises with run lengths under 100. To increase their growth, enter new markets and have convergence points with labelling and packaging solutions, he said companies need to offer solutions for both to be a "one stop shop" for a brand owner.
GEW

Arc and UV LED curing system manufacturer GEW's press conference was held in collaboration with All4Labels, as the two have been working together to retrofit GEW machines with LED systems. GEW sales managing director Robert Rae started by highlighting the company's main product on display: the AeroLED air-cooled UV curing system, apparently fully air cooled with a consistent output of LED over time, no heat or air movement exhausted into the press, no filters and waste heat and air can be ducted out. He added it can switch between LED or mercury on any station.
Rae conducted a question-and-answer session with Severin Much, global printing technology at All4Labels. When asked whether they have been able to measure any energy cost or efficiency savings and how they match up with GEW's original estimates, Much stated it was not the main ROI [Return on Investment] driver – instead, the focus is on the amount of printing units used on average.
He added the decision was made to change to UV/LED inks but changing the varnish will be done later due to the cost implications. Much also stated "we were able to reduce [the CO2] footprint by 2000 tonnes a year" and remove mercury from volumes (a few grams per year per machine).
Kurz

Hot stamping and coating technology company Kurz's conference centred around its sustainability achievements and the implementation of the RECOSYS program (which takes embossed PET carrier (foil) material back from customers), outlined by global director of digital embellishment solutions Michael Aumann and Christophe Dujardin, global business development manager for cold transfer and sustainability.
Aumann stated that KURZ transfer products are 100% recyclable with the 3 primary technologies being transfer on toner, inkjet on transfer and inkjetting onto substrate.The hot and cold stamping process is reportedly fully compatible with the recycling process, according to 4evergreen.
Dujardin explained the company's RECOSYS recycling program, designed to take embossed PET carrier (foil) material back from customers. Initially only cold foil customers, RECOSYS 2.0 has been introduced and can pick up PET carrier materials in most areas of Europe. The materials recycled into rPET "which can be used in any type of application", Dujardin said.