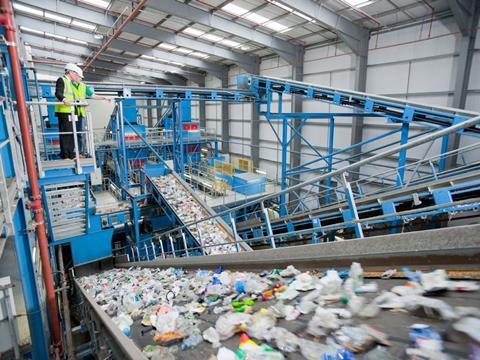 Plastics Recyclers Europe says the industry has registered a nearly 10% increase in installed plastic recycling capacity for flexible film in 2020, which apparently accelerates growth towards EU targets, despite the COVID-19 pandemic.
The group's new estimate suggests a 2.7 million tonne capacity for PE film recycling with 30 new film recycling facilities, totalling 218.
According to the group, linear low density and low density PE is the second-largest plastic fraction in the EU market – apparently suggesting a "major" recycling potential.
It adds that, at present, 17% of recycled flexible PE reportedly finds an outlet in film-to-film applications, with non-food packaging and building and construction being its largest markets. The group says its forecasts show that PE film products could incorporate as much as 38% recycled content by 2030.
Ton Emans, president of Plastics Recyclers Europe and PRE LDPE-working group chairman, says: "Fast-paced technological developments in collection, sorting and recycling, made it possible to recycle film back to film.
"Closed-loop recycling is the future of circular flexible plastic, placing Europe as a front runner of mechanical film recycling.
"This does not mean that there are no challenges. The main obstacles in targeting new high-end applications are multi-layer and multi-material products, which are not in line with the Design for Recycling principles."
The group claims that, despite challenges, the growth of flexible plastic recycling is set to continue, with extended collection schemes being implemented across EU Member States to meet recycling targets. This will apparently see an increase in flexible plastic film being collected from households.
In addition, the group says that better sorting technology – along with extended producer responsibility (EPR), which will see environmental costs incorporated into the market price of products – has helped to generate monomaterial streams. This could lead to a decrease in mixed polyolefin fractions.
The demand for high-quality recycled flexible PE is also likely to grow, according to the group, as flexible plastic value chain players make commitments to improving the recyclability of plastics and to incorporating recycled plastics into products.
The group concludes with a call for industry players to look for long-term solutions, rather than "quick fixes", in the drive towards circularity. It says the focus should be on further optimising and advancing processes and solutions that already perform well in producing high-quality recycled material, in a bid to increase the uptake of recyclates in film applications.
Elsewhere in the European plastics industry, PlasticsEurope called for a new recycled content target of 30% by 2030 earlier this month, endorsing both mechanical and chemical recycling solutions. In its response, EuPC claimed this would not share the responsibility across the value chain, but rather place the risk solely on plastic convertors – showing the ongoing challenges facing the industry as it sets out to establish fair and effective collaborations for circularity.
Meanwhile, other industries have demonstrated resilience in Europe despite the COVID-19 pandemic. For example, the European Tube Manufacturers Association (etma) reported that the tube industry was "stable" in 2020, with some improvement in the cosmetics and food segments.