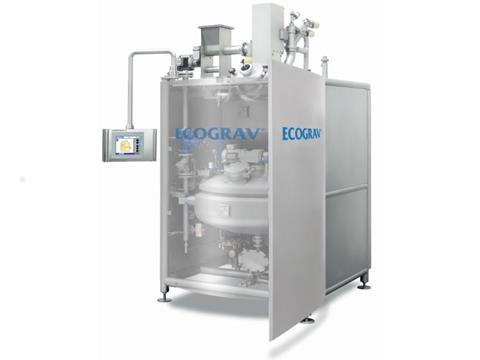 At this year's SWOP trade show, the top specialists in the confectionery process and packaging supply sector – Chocotech, Hansa Mixer, Hänsel Processing, Theegarten-Pactec, and Winkler und Dünnebier Süßwarenmaschinen GmbH (WDS) – will be informing visitors about their product and service portfolios at a joint Confectionery Pavilion.
This represents a unique opportunity for confectionery manufacturers to benefit from access to combined expertise through the entire processing and packaging process. The Confectionery Pavilion will be located in Hall W2/ Stand B56.
Beyond being widely respected suppliers to the confectionery sector, what these five companies have in common are extremely high standards of quality, innovation leadership, high systems efficiency, reliability and longevity, a proven customer orientation and commitment to their customers' success. The companies work together to develop comprehensive customized solutions, supplying complete process and packaging systems with coordinated interfaces – enabling customers to capitalize on the expertise of the five companies.
Each one of them has been supplying confectionery manufacturers for decades – offering them different and complementary areas of expertise. Their customers around the world greatly benefit from exceptional synergy and strength of innovation. SWOP is an ideal starting point for confectionery manufacturers at the trade show who are not only looking to inform themselves on product production, shaping and packaging, but who have a product idea and are searching for information on the entire process – from basic production all the way through to packaging.
Consultants from each of the five companies – Chocotech, Hansa Mixer, Hänsel Processing, Theegarten-Pactec, and Winkler und Dünnebier Süßwarenmaschinen GmbH (WDS) – will be present at the Confectionery Pavilion to meet with confectionery manufacturers and discuss their individual needs.
Each of the companies is a specialist in their own field of operation:
Chocotech develops and engineers the most up-to-date, innovative mixing and cooking equipment solutions for caramel, fondant, foam, jelly, hard candy, fruit snacks, binders, bird's milk, brittle and Halwa production.
Hansa Mixer Hansa Mixer is one of the leading providers of mixing machines, Inline dosing systems and Aeration machines for the food and non-food industry world-wide. More than 2,000 customers in over 120 countries trust our nearly forty years of experience, our reliable quality and our comprehensive service. Of the more than 5,000 systems that we have produced in Stuhr near Bremen to date, most are still in use today.
Hänsel Processing is specialised in processing lines for the sugar confectionery industry and one of the world´s leading manufacturers in this field. We offer nearly the whole range needed for the production of sugar confectionery, from single machines to complete processing lines.
Theegarten-Pactec, as one of the world's leading manufacturers in the packaging technology sector, develops high-quality, intelligent packaging machines for small-sized confectionery products, such as hard and soft caramels, hard candies, chocolate products, hard candies and jellies.
Winkler und Dünnebier Süßwarenmaschinen GmbH (WDS), as a specialist in moulding plants, covers the entire spectrum of deposited sweets with different applications and throughputs: for chocolate, gum and jelly, hard candy, fondant and toffee, as well as viscous masses.