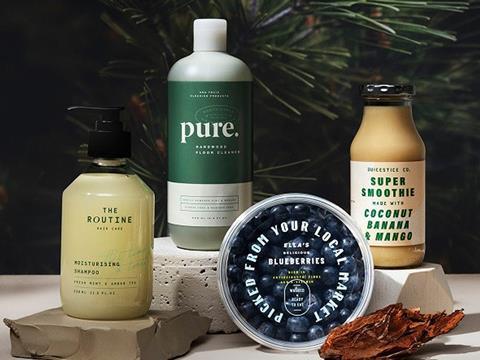 Last year, UPM Raflatac unveiled a new wood-based polypropylene film material, which was recently announced as one of our Sustainability Awards 2020 finalists. We spoke with the company to find out more about the product and its implications for carbon reduction.
---
Congratulations on being selected by the international judging panel as a Sustainability Awards 2020 finalist! Could you please introduce your successful entry and what's innovative about it?
We are inspired by the limitless opportunities of bioeconomy and want to deliver renewable and responsible solutions, to innovate for a future beyond fossils. UPM Raflatac Forest Film is a great example of UPM Beyond Fossil brand promise and is a proof of our strategy in action.
Developing the technology to produce renewable naphtha from crude tall oil that is a residue from pulping process is the unique innovation of UPM. This has allowed us to take this historical step. Now we have succeeded in bringing this sustainable innovation downstream in the value chain all the way down to consumer packaging solutions.
By replacing fossil-based raw materials with renewable ones we can ensure a truly sustainable packaging solution. Forest Film is the first wood-based polypropylene film label material on the market. It is a drop-in solution: it can smoothly replace traditional fossil-based options as it is identical in quality and performance to conventional fossil-based films.
What are the environmental challenges in packaging that your entry addresses, and what impact do you hope it will make?
We've responded to the need for renewable packaging materials by bringing a wood-based plastic material into the market. Forest Film is a 100% wood-based solution that gives new life to residue from the pulping process.
It holds ISCC Plus certificate that proves a fully traceable supply chain to support the transition to bio-economy with plastics. As mentioned earlier, its performance as a self-adhesive label material is 100% identical to standard.
Forest Film is proven to deliver savings on greenhouse gas emissions. A comparison made between a standard label construction and Forest Film, the carbon footprint including biogenic carbon reduces emissions significantly up to 66%.
I'd like to ask you about the broader picture beyond your successful entry. 'Sustainability' in packaging is multi-dimensional – both in terms of objectives and challenges. Could you comment on the most important roadblocks you identify from your position in the value chain, and the kinds of solutions you would like to see addressing them (e.g. areas of technological innovation, collaboration, regulation)?
We have a unique position in the value chain. UPM Raflatac provides labeling solutions for all the kinds of consumer packages seen in the store and used in everyday life. When brands consider the sustainability of their packaging, the sustainability of label materials has generally not been a high priority.
Few brands really understand how labels matter and how they can have a significant impact on total package performance. In addition, the downstream is quite complex; it involves many players and information does not flow freely through the value chain, far less the adoption of new sustainable label innovations to be part of the packages.
Furthermore, there has been a lot of new regulation and guidance appearing at regional and national levels. This is often inconsistent and is causing confusion on how to design packaging to reduce carbon footprints or waste, or make it more recyclable.
To make this complex landscape more manageable for the value chain we would need harmonization of the guidelines as well as simplifying the complexity of packaging. The sustainability of packaging is truly multi-dimensional and complex.
Some focus only on the plastic waste issue and, for others, climate change mitigation is the only thing that matters. But we need solutions for packaging that are holistic and consider the total footprint.
Such holistic thinking across the value chain is needed in order to truly evaluate the circularity of materials and the potential for climate change mitigation - this requires strong collaboration so we can find solutions that tackle both.