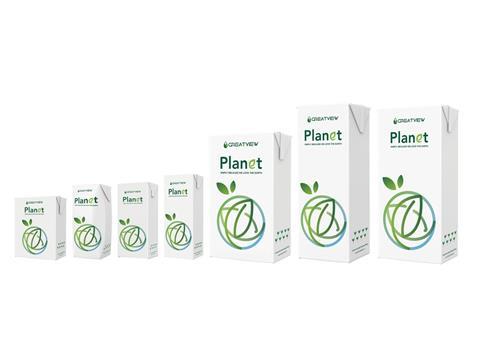 Greatview, INEOS and UPM Biofuels have collaborated on Greatview Planet aseptic cartons made from FSC-certified paperboard and laminated with polymers that incorporate tall oil-based bio-naphtha using a mass balance approach.
To develop the Greatview Planet packaging material, the company partnered with INEOS and UPM Biofuels. The aseptic packaging material is reportedly laminated with bio-attributed, mass-balanced polymers made by INEOS, which incorporate tall oil-based bio-naphtha from UPM Biofuels. Tall oil is a residue of the pulping process and originates from forests.
Juha Rainio, sales and marketing director at UPM Biofuels, explains: "We are committed to replacing fossil-based feedstocks with renewable alternatives.
"An excellent example of this is our UPM BioVerno naphtha, produced from tall oil – a sustainable residue of wood pulp processing – in our unique Lappeenranta Biorefinery in Finland."
Rob Ingram, CEO of INEOS Olefins & Polymers Europe, adds: "The new INEOS product that Greatview uses, is made from UPM's bio-naphtha, converted into a 100% bio-attributed polymer using 100% renewable wind power.
"This new polymer gives Greatview a competitive edge based on a certified sustainable product range. Innovation across our business continues to drive the sustainability of our products and production processes. "
According to the companies, at the Greatview factory in Halle, Germany, the bio-attributed polymer is used for laminating the paper board and producing the aseptic carton pack. The Halle factory apparently runs on 100% green electricity with resource-efficient production lines that are certified accoring to ISO 14001 (Environmental Management) and ISO 50001 (Energy Management).
The companies claim that the bio-attributed polymer used in Greatview Planet has the same material properties as conventional fossil-based polymers, reportedly offering the same level of quality and food safety for aseptic carton packs.
In addition, the value chain for the bio-attributed polymers and Greatview's production facility in Halle are certified according to the Roundtable on Sustainable Biomaterials (RSB) Standard.
The companies also note that Greatview Planet is a plug-and-play solution, which means it is ready to run on the customer's filling line without any downtime or additional waste in the case of a switch from standard Greatview packaging material to Greatview Planet. According to the companies, Greatview Planet ensures high line efficiency, low filling costs, and an attractive total cost of ownership for the whole carton filling system.
Victor Lee, international director of Greatview states: "At Greatview we see sustainability as an integral part of our business model and our commitment to develop long-term value for our customers, retailers and consumers. We have invested substantial efforts into finding our way to drive the circular economy.
"Greatview Planet is an important milestone that we are proud of. It saves fossil resources and helps to decarbonise the value chain.
"Greatview Planet is produced in Germany and is Greatview's first product with its own sustainability position, dedicated to serving international market needs. Greatview Planet is the result of the common commitment and ambition of all three parties engaged to drive sustainability."
Greatview also offers two customer services. This includes TALK CONSUMER, a service aimed at ensuring effective on-pack promotion with consumer-friendly language, which the company says is customer-specific and compliant with certification systems. Greatview adds that it has worked with RSB to develop a modular, RSB-certified claim pool with ideas for B2C-consumer statements on sustainability.
Meanwhile, GREEN INNOVATION gives customers the option to partner on developing tailor-made green product solutions, Greatview says.
Nicola Noponen, technical director at Roundtable on Sustainable Biomaterials (RSB), concludes: "Greatview and the RSB collaborated closely on an RSB-approved claims list ready to deploy.
"This successful cooperation arose from the solid understanding of the needs of each partner which was the basis to transform technical requirements into catchy and easy-to-understand consumer messaging."