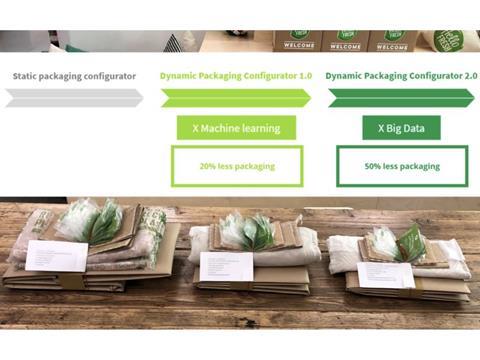 The DPC was designed to help us reduce packaging materials and thus provide a more efficient use of resources. By reducing the amount of paper and plastic needed in every delivery we are reducing the energy needed to transform these raw materials into packaging products and the emissions from transporting the packaging to our warehouse. Once produced, more of our optimised meal kit boxes fit on each pallet, meaning fewer pallets are shipped and ultimately requiring fewer trucks for each delivery route, minimizing fuel consumption and CO2 emissions and maximizing performance. Each route already replaces many individual customer trips to the grocery store, now it will become even more efficient.
I'd like to ask you about the broader picture beyond your successful entry. 'Sustainability' in packaging is multi-dimensional – both in terms of objectives and challenges. Could you comment on the most important roadblocks you identify from your position in the value chain, and the kinds of solutions you would like to see addressing them (e.g. areas of technological innovation, collaboration, regulation)?
We've recognized that for some of the packaging challenges in the meal kit sector there are no fitting solutions yet which requires HelloFresh to create our own. As we move forward, strengthening the existing partnerships with our suppliers will be important as we seek to develop the packaging solutions that our market segment is calling for.
There is considerable room for improvement for recyclability, recycled materials and reusability across the current landscape. That is why we are working towards a circular use of packaging by implementing certified recyclable materials for all essential packaging in each of our markets. In connection to that we see a large move towards mono material packaging – topic that has been on our agenda for some time. Monomaterial packaging can be recycled quite easily because it consists of a single material that does not have to be separated before disposal. This also makes the correct way of disposal more convenient for our customers. We are currently working on solutions to convert all our packaging (including transport packaging) to mono-solutions.
One problem we face at the moment concerning recycling is the lack of standardised recycling guidelines across our markets. There are numerous regulations for the return and especially the disposal of packaging which differentiate from national to municipal regulations.
While we are improving our recycling quota we also want to use more recycled materials for our packaging. In this regard it would be helpful if the use of recycled materials would be incentivised, as that would make it much easier to introduce sustainable packaging solutions.
Next to using recycled and recyclable materials, the reusability of packaging is a trend we are seeing and which is important to us and our customers. For example, we are currently testing an in-house developed reusable HelloFresh box in several markets, including the Netherlands and Australia.
Besides the technical aspects we also have to take customer satisfaction into account. As a global player in the meal kit market, we send a large variety of ingredients to more than seven million active customers around the world. Many of them would like to see us using next to no packaging at all. At the same time we are dependent on packaging because it helps protect and preserve the sensory properties of our ingredients, such as taste and smell, it separates and limits biological interactions between the ingredients and it extends the shelf life of products such as meat or yoghurt. We obviously can not get rid of all packaging. Therefore a big challenge is raising awareness in customers for why some packaging is necessary and can not be avoided to ensure food safety and quality.