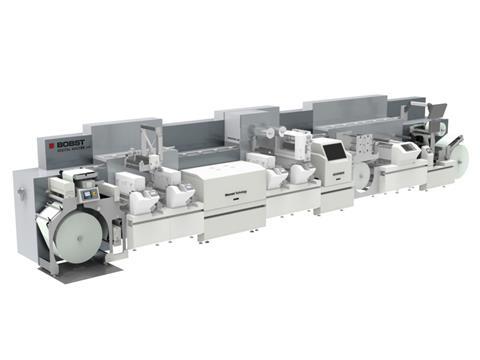 BOBST has announced the 3D CONFIGURATOR online tool – compatible with its DIGITAL MASTER modular label press series – which is thought to integrate digital and flexo technologies into one workflow and allow label converters to visualise their ideal press configurations, thus enhancing their capabilities, reducing waste, and improving efficiency.
The tool serves as an enhancement to BOBST's DIGITAL MASTER series, launched in April 2022. The machines are available in 340mm and 510mm print widths and are said to combine digital and analogue print technologies in a single, high-flexibility press.
Reportedly, the 3D CONFIGURATOR provides converters with instant online access to view, add, arrange, combine, or remove modules from the base machine according to their current job basket. These modules include flexo, delam/relam, multi-layer, combo coupon, hot foil, combo lamination, screen-printing, and semi-rotary and rotary die-cutting, all of which can be visualized in 3D alongside descriptions of their use and potential.
The custom configuration can then be finalised, at which point a full report will be presented to the user with all the required details, including press dimensions. BOBST also claims that its online tool allows customers to get in touch with their local BOBST sales representative to discuss and validate their choices.
"At BOBST, we understand that every customer has unique requirements, which is why we have developed the unique DIGITAL MASTER series platform," said Patrick Graber, strategic marketing manager at BOBST. "Now, converters can experience the modularity and versatility of DIGITAL MASTER series with the new 3D CONFIGURATOR, which enables them to configure their press based on their specific requirements."
The 3D CONFIGURATOR is reportedly available for both desktop and mobile devices.
HelloFresh was a finalist in the Sustainability Awards 2021 for its Dynamic Packaging Configurator, which aimed to reduce packaging materials, optimise resources, and save energy, emissions, and fuel consumption via predictions from a machine learning classifier.
In 2020, Monotech Systems Limited launched four new digital label press models under its JETSCI Global brand, utilising inkjet print head technology from Kyocera and providing UV inkjet printing at 600x600 dpi resolutions up to 3 or 4 drop grey scale at reported speeds of 50 m/min.