Elopak, a finalist in the pre-commercialized Climate Category of our Sustainability Awards, talks about their new aluminium-free aseptic carton which reportedly has a 50% lower carbon footprint than a standard aseptic carton.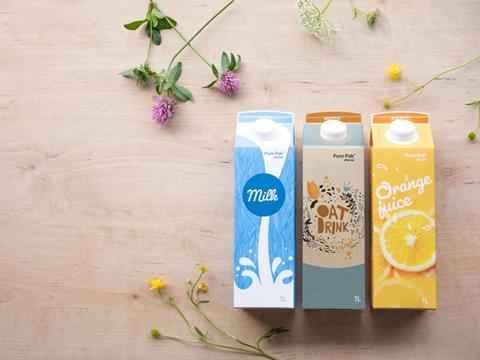 You're a finalist in the Sustainability Awards 2022. Congratulations! To start off, could you summarise your entry, the Pure-Pak® eSense carton, in less than 50 words?
The Pure-Pak® eSense is a more environmentally friendly aseptic carton which is aluminium-free. Made with sustainably sourced paperboard and a polyolefin blend barrier, the Pure-Pak® eSense unlocks the opportunity of a fully renewable aseptic carton and results in up to 50% lower carbon footprint than a standard Pure-Pak® aseptic carton. (Based on internal, third-party reviewed cradle-to-gate calculations from the Dynamic Elopak Environmental Performance (DEEP) tool, version11, 2021.)
Why do you think the judges were impressed with your entry? Tell us about what is innovative about your project and/or about its impact on packaging sustainability.
The Pure-Pak® eSense aseptic carton is an exciting innovation because it extends the environmental credentials of our cartons to customers in the aseptic segment. The carton is made with a unique and innovative polyolefin-based barrier that replaces the aluminium layer yet retains the rigidity of the carton, meaning the package performance across the supply chain is not compromised. With no aluminium the carton eliminates the need for extraction of finite raw materials – which is linked to pollution as it is an emission intensive process. It is a lighter carton and has up to 50% less emissions than Elopak's standard Pure-Pak® aseptic carton.
As well as being an aluminium-free carton, it is also free of PET, Nylon and other barriers that may complicate the recycling process. A new simplified structure enables easier recycling across existing facilities. It has also been designed with easy folding crease lines, which help consumers to empty all the product inside before folding the carton for more convenient recycling while reducing food waste.
When and how do you intend to launch/commercialize this innovation?
The first company to bring the benefits of the Pure-Pak® eSense package to market is leading Spanish drinks manufacturer GARCÍA CARRIÓN during Q3 2022.
The Pure-Pak® eSense carton is suitable for both low and high acid food & beverage products, including milk, juice and plant-based drinks. It is available in 500ml, 750ml, and 1l sizes, with 1.5l, 1.75l and 2l and US relevant sizes to be introduced at a later stage.
Customers can also opt for polyethylene based on feedstocks from second generation renewable sources, or a carbon neutral version of the Pure-Pak® eSense carton, where the remaining emissions are offset through Elopak's verified CarbonNeutral® packaging program.
You're shortlisted for the Climate (Pre-Commercialized) category. What do you see as the key demands, challenges and opportunities in relation to climate change?
Climate change is a global problem that is crossing borders. Elopak aims to make a positive impact where it can. Having become a carbon neutral company in 2016, we are committed to playing our part in the push to Net-Zero. We are doing this both through the Science Based Targets initiative (SBTi) verified targets we have set as a company and our wider work to provide brands and consumers with more sustainable packaging solutions through continuous innovation and improvement.
Winners will be announced at a special awards and networking dinner taking place the evening of the 14th of November during our 'Innovation Horizon' event. You can book tickets for the dinner and/or the conference, which reveals the cutting-edge sustainable packaging innovation that will be needed over the coming 5+ years, here.